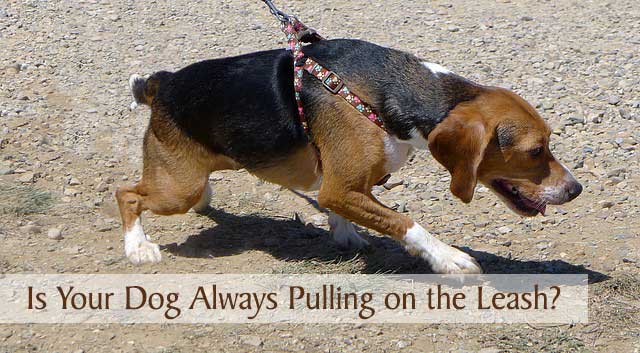 If you struggle with your dog pulling on the leash every time you take a walk, you're not alone. It's probably the most common problem dog owners complain about, especially for those people with larger dogs. I have to admit, I've been postponing writing this article for quite a while because it's an issue that I've struggled with myself. But knowing what a huge problem this is for so many people, I thought I would share my experience, mistakes and lessons learned along the way.
Yes, I was one of "those" people you pass occasionally on your walks. The one with the dog that's straining at the leash and hacking away while dragging their human along for the ride as they try to smile when people ask the dreaded "Who's walking who?" question. It was so frustrating to see people with perfectly behaved dogs walking politely at their sides because we had tried so many different loose leash walking (LLW) techniques without a lot of success. I didn't expect Haley to heel perfectly at my side, I just didn't want to be dragged down the street. Here are a few of the techniques I tried.
Loose Leash Walking Techniques I Tried
Use high value treats – This is all about rewarding your dog to stay at your side rather than pulling ahead. I could have had strips of filet mignon hot off the grill and it wouldn't have mattered to Haley. Besides, some dogs might not be motivated by treats.
Become a tree – The idea is to stop when the leash becomes tight, then don't move again until your dog creates some slack in the leash. We tried this for a few weeks, but as soon as I would move again, the pulling continued.
Reverse direction – With this technique, you change directions while calling your dog to you when they begin to pull on the leash. This worked slightly better than becoming a tree, but it still wasn't very effective in the long term. I'm sure plenty of people got a good laugh while watching me do this for a few weeks though.
Walk faster, but slow down if your dog pulls ahead – The idea with this strategy is that dogs like to walk a faster pace than us humans so they'll be rewarded for staying closer. Haley would pull less at the faster pace but she was still pulling.
Make sure your dog walks behind you – This is related to the dominance theory of keeping your dog slightly behind you so you are perceived as the pack leader. I never bought into this theory but I did try keeping her close to me on a short leash. It didn't help with the pulling issue.
Thankfully, we've come a long way since those early days and I've managed to figure out a few things through trial and error. I also discovered why some of the techniques I mentioned didn't work very well with Haley. Before I get into the mistakes I made, it's important to understand why dogs pull in the first place.
Why Dogs Pull on the Leash
The biggest reason dogs pull on the leash is to get to where they want to go. Pretty simple, huh? The problem with letting them pull ahead to investigate an alluring scent is they quickly learn that pulling is rewarding.
Dogs often pull because of opposition reflex from the tension on the leash.
A dog's natural pace is much faster than our walking pace. Dogs normally like to trot rather than walk slowly, so it takes some training to keep them beside us while walking.
We normally walk in a straight line and at a steady pace which isn't natural for dogs. Dogs enjoy exploring their surroundings by chasing things or following interesting scents with their noses.
Fearful dogs may pull to get back home because it's where they feel safe.
Even though Haley's much better at walking nicely with me, even when passing other dogs on the trail, there are still times when she'll pull a lot, like when she unexpectedly sees someone she knows and wants to greet them. She's not perfect but she's good 90% of the time and I can live with that. Looking back now, I realize some of the mistakes I made when she was younger and I thought I would share them with you.
4 Leash Training Mistakes I Made
Mistake #1 – Distractions
As a puppy, Haley walked nicely beside me when we practiced inside the house, but walking outside was a completely different story. I didn't realize that she needed to be trained gradually in different environments with increasing distractions. After working in the house, I should have moved to the yard, then to a quiet park with very few people, etc. You get the picture. I was expecting too much from her to go from a quiet home environment to a busy street with many people and dogs.
Mistake #2 – Energy
I underestimated how much energy Haley had. She's a very high-energy dog and it's nearly impossible for a dog with excess energy to focus on training. I should have exercised her or played with her before going outside for leash training. A tired dog is less likely to pull hard on the leash and more likely to be interested in those yummy treats in your pocket.
Mistake #3 – Excitement
I didn't fully understand
the role of excitement in training
. Not only is Haley high energy, but she's also a very excitable dog. Even after strenuous exercise, the anticipation of experiencing all the sights, sounds and scents of the great outdoors caused her to pull on the leash with a lot of force. It's almost impossible to train an overly-excited dog because you simply can't get or keep their attention. I should have taken the extra time to train
good door manners
and to make sure she was calm before heading out the door or getting out of the car and I should have waited for her to relax more before trying to train her to walk nicely on the leash.
Mistake #4 – Persistence
Even though I tried many different loose leash walking techniques, because I didn't fully understand all the factors that caused Haley to pull, frustration set in and I eventually gave up. I settled for less pulling instead of no pulling. It takes a lot of patience to train a dog to not pull on the leash, especially with a high-energy, excitable dog, but I gave up too early and settled for pretty good behavior.
Had I realized and remedied these four issues, I'm sure it would have been much easier to train Haley with any of the techniques I mentioned earlier. It's not that the techniques don't work, it's just that there were things I wasn't doing that made those techniques much harder. I should have exercised her first, made sure she was calm before beginning our walk, worked slowly to increase the distractions in areas while training, and I should have been more persistent instead of giving up so soon.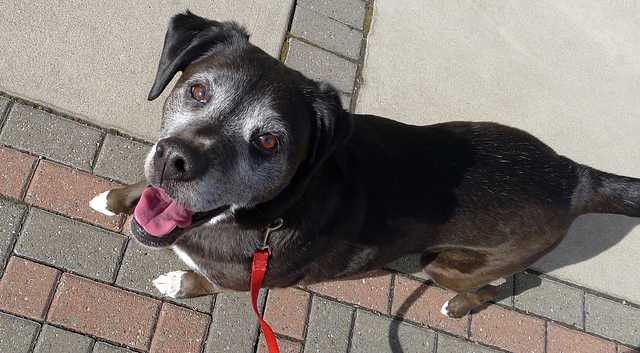 Despite my mistakes, Haley's a pretty good walker. She still walks out in front of me which is fine, but usually on a slack leash. She'll occasionally come to my side and look up at me with a grin to see if she's earned a treat. If she gets one, she takes it nicely then moves back out in front but not pulling. She also knows that the command, "This Way!" means we're changing directions and she's learned to yield to light pressure on the leash instead of reacting with opposition reflex.
Ideally, we all would have perfectly trained dogs that listen well and never pull but sometimes we need a little help. If you're still struggling with walking your dog, here are a few tips and tools that might help.
Tips and Tools!
Ditch the retractable leash for a regular six foot leash. Unless a retractable leash is locked, it always has tension which works against a dog's opposition reflex and the ability for them to know what a loose leash feels like.
Consider buying a treat pouch that attaches to your waist so you can easily give rewards at the right time while walking.
Avoid using choke or prong collars which can be dangerous for dogs that pull hard.
Head collars are helpful for dogs that pull hard because they cause the dog's head to turn towards you if they pull. However, many dogs don't like to wear them and they're not recommended for short-nosed dogs.
A front-attaching chest harness is a great alternative which uses the same principle as the head collar. When the dog tries to pull forward, the harness causes their body to turn sideways towards you instead. A harness has the added benefit of taking the pressure off the dog's neck.
If you have a dog that's always pulling on the leash, I hope these tips and tools are helpful and hopefully you can avoid some of the mistakes I made with Haley when she was a young pup. Now, I'd love to hear your experience with loose leash walking and any tips you might have!