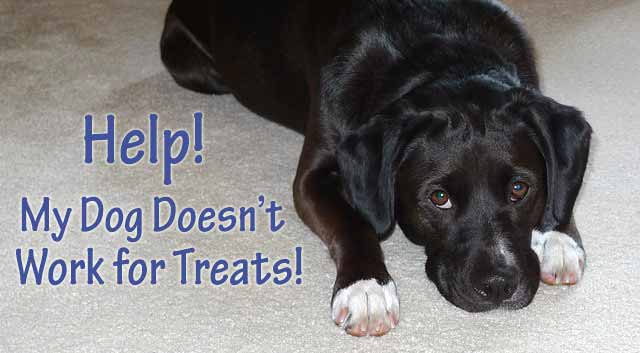 When it comes to dog training, almost every article you read suggests using food or treats as an incentive, especially with positive reinforcement training. Food is a great motivator for most dogs but every once in a while, I get a comment or email from a reader saying their dog doesn't work for treats. What? How can it be that some dogs aren't motivated by food? Those tasty tidbits are like magic wands that can be pulled from your pocket to mesmerize and control your pup's behavior. Well, at least until they gobble them down. So what's going on with these dogs that just aren't interested in treats? Here are eight possibilities.
8 Reasons Your Dog Doesn't Work for Treats
1. Your dog isn't hungry.
If you free feed your dog or they've just eaten a full meal, they might not be interested in even more food. Your pooch will be more motivated if you train when they're hungry.
2. Your dog's not impressed with your offering.
Some people offer pieces of dry food from their dog's mealtime ration to limit calories, but your dog might not find their normal food all that exciting. Since dogs work harder for food they like, buy some yummy-smelling training treats or try some small pieces of meat or cheese. Some dogs will even turn down one type of treat if they smell or think you have something better. Experiment to see what your dog really loves.
3. Your dog is anxious or scared.
When a dog feels threatened, stressed or is in a high state of alert, they usually won't take food and will often turn their nose away from it. This can be a useful way of reading your dog's emotional state.
4. Your dog is overexcited or distracted.
This can happen when your dog finds something in their environment more interesting than the treats you're offering. Make sure you start training at home, around little or no distractions, then gradually increase the level of distractions.
5. Your dog has a negative association with treats.
This usually happens if you've lured your dog into a situation they perceive as negative by using food. For example, luring your dog into his crate before leaving the house or luring them towards something they fear. This type of luring can cause dogs to associate the treat with the negative event and they may avoid taking treats in the future.
6. You've abused the power of treats.
If you've fooled your dog by pretending to have a treat in order to get them to come to you or follow a command, they soon learn to distrust you and may no longer be motivated by treats, even if you have one.
7. Your dog's breed isn't particularly food motivated.
Some breeds (like labs) are very motivated by food and will take a treat even if they're full. Other breeds aren't as food motivated or they may be motivated by play or other drives. If your pup will work for toys, play sessions, praise or belly rubs, that's great too. It's all about discovering what motivates your dog.
8. Your dog may feel sick or have a medical issue.
If your pup has an upset stomach or the type of treat doesn't agree with him, he'll probably turn it down. If this is unusual behavior for your dog or he's not eating at all, contact your vet to see if he needs to be examined.
While I'm on the topic of using treats for training, here are a few extra tips.

A few more treat tips!
If your dog listens and follows commands consistently, but only when you have a treat, it's time to start weaning your pup off the treats by giving intermittent reinforcements. Offer praise, petting or something else your dog loves while slowly reducing the number of treats for that particular command.
After your dog is reliable and weaned off treats for a command, an occasional treat as an intermittent reward is a great way to reinforce their reliability. Even though Haley reliably comes to me when called, an occasional surprise treat keeps her running back to me with enthusiasm!
Food is a primary reinforcer for dogs; they need it to survive and it's a powerful reward that can be used to shape all kinds of behavior. If your dog doesn't work for treats, try some of the tips above and let me know how they work.
Have you ever had a dog that wasn't motivated by treats? What worked for your dog? Share your tips and thoughts in the comment section below!
---