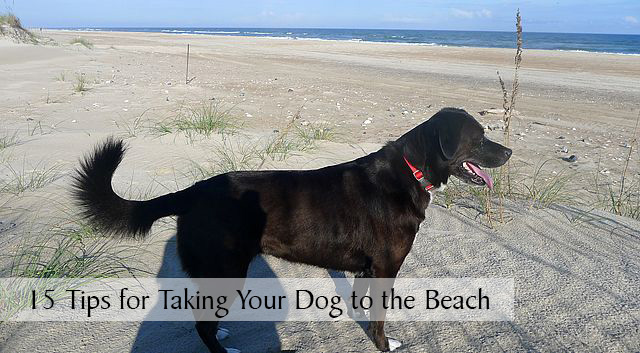 It's officially summer! If you've got a beach vacation coming up soon, I've got some great tips to share with you for taking your dog to the beach.
What could be better, right? Sun, sand, warm breezes, ocean waves and having your dog right beside you to enjoy it all. The beach is one of Haley's favorite places, but there are a few things about the beach that aren't quite so dog friendly. We learned a lot through trial and error during our beach vacations with Haley and a few crazy days spent on the remote, Portsmouth Island.
Before you read the beach tips below, be sure to check out my earlier posts, Tips for a Holiday Road Trip with Your Dog for packing lists and general doggie travel advice and 10 Tips for Exercising Your Dog in the Summer for tips on keeping your pup safe in the summer heat and how to prevent and treat heatstroke.
Okay, on to the beach tips!
15 Tips for Taking Your Dog to the Beach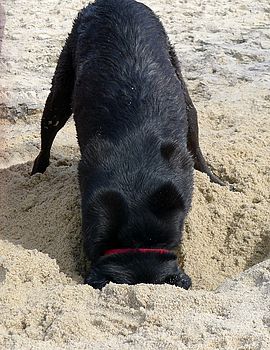 1. Protect those paw pads.
The sand on some beaches can get extremely hot and if you're wearing flip-flops or beach sandals you might not realize just how uncomfortable it may be for your dog's feet. Apply a product like
Musher's Secret
to those paws before hiking out to the shoreline.
2. Find out if your dog likes to swim.
If it's your dog's first time at the beach, start off in a quiet area with calm water to see how your dog reacts. Not all dogs can or like to swim; some just enjoy walking along the surf line, and that's fine. Even dogs that are good swimmers can become overwhelmed by strong waves and currents, so keep a close eye on your dog at all times. Make sure you're familiar with how to deal with
rip currents and lateral currents
. Occasionally we read stories about humans that drown while trying to save a dog caught in a rip current but the dog manages to make it back to shore, so it's good to be aware of different types of tides.
3. Consider a life vest for your dog.
Whether you'll be boating or just playing in the surf, a life vest can be a great investment, for both fun and safety reasons. Even dogs that swim well can benefit from wearing a life vest because they can enjoy more time in the water before they get tired. A life vest with a handle on the back is convenient for lifting a dog out of the water.
4. Provide some shade.
Humans and dogs alike need occasional breaks from the sun. A playful, energetic dog can become overheated quickly at the beach. Large shade umbrellas are nice, but if you're spending hours on the beach you'll really appreciate some type of shade tent that can provide enough area for a few people and your dog to cool off. Some shade tents even have wind breaks to protect from blowing sand. Trust me, it's definitely worth the effort to lug it to the beach.
5. Don't forget your dog's sunscreen.
You might not associate sunburns with dogs, but it can happen if your dog spends a lot of time in the sun. Sunscreens made for dogs, babies or sensitive skin are normally fine to use as long as they don't contain zinc oxide, but check with your vet if you have any concerns about using sunscreen on your dog. Apply it to your dog's nose and ears and also the belly and groin areas if they like to lay on their backs. Dogs with pink noses and skin, shaved dogs and dogs with light-colored coats especially need protection from the sun.
6. Pack plenty of water in the cooler.
Dogs can get dehydrated easily at the beach so plenty of cool, fresh water is essential. It's also worth packing a lightweight, collapsible bowl in your beach bag instead of having your dog drink from a water bottle. A good supply of fresh, cool water is also the best way to prevent your dog from drinking too much salt water which can be harmful.
7. Take several leashes.
You'll want to check local ordinances for off-leash and leash length rules, but long leashes can come in handy at the beach. They can give your dog more room to roam when needed and tied to a shorter length when required. I also take extra leashes that can be secured and left in different locations. For example, I always leave one tied to a cottage stilt at ground level for when we're hosing things off outside or getting things in or out of the vehicles. It's handy to have it ready to use if I need to secure Haley and keep her safe. On a related note, if you're able to let your dog off-leash at the beach, always make sure she's wearing a collar with ID.
8. Handling the beach poop.
Nobody wants to dig up buried dog poop when building a sand castle, yuk! Take several poop bags with you every time you head out to the beach. It can be a long trip back to the cottage or car if you forget one and it can be quite embarrassing too. If you're alone with your dog and have to leave to retrieve a bag, people will surely assume you've decided not to pick up after your dog. Be kind and help out a fellow dog owner if you ever see this happen to someone else, they will surely appreciate it! If you'll be on the beach for hours, a heavy-duty, galloon-sized ziplock bag is nice to double seal any smelly poop bags if there are no trash cans around. I have seen some dogs that like to poop in the water at the beach. Yep, that's a tough one to deal with but at least try to clean it up if you can.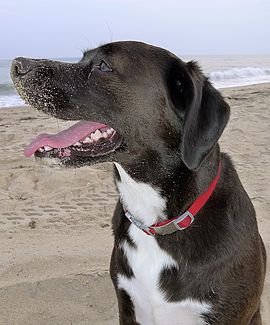 9. Handling the sand-covered face.
If you have a dog like Haley that likes to dive into the surf and dig for crabs in the sand, leave a bottle of water in the shade for rinsing off their face. You don't want your dog trying to remove sand from their face or eyes with their sand-covered paws. I like to use a thin, microfiber hiking towel moistened with clean water to carefully wipe the sand away from the eyes and muzzle area.
10. Avoid hidden dangers in the water.
You're probably thinking sharks, right? You'll want to avoid them too, but it's not uncommon for dogs to cut their paws on sharp objects like shells under the water. I especially avoid areas around fishing piers where there's likely to be hooks or cut fishing line in the water. Watch your dog carefully for limping or signs of injury.
11. Light up the night walk on the beach.
What dog doesn't like to chase crabs on the beach at night? It can get pretty dark out there at night, so I attach an led light to Haley's collar and I take a laser pointer along with me. I rarely use laser pointers around Haley, but beach walks at night are one place where laser pointers can be useful if your dog likes chasing the light. The sound of the wind and ocean waves can make it tough for your dog to hear your call if they're running off-leash and the laser pointer can be an easy way to direct them back to you. I've never had to actually use it for that purpose, but it's good to have it if you need it.
12. Give your dog a clean rinse or bath.
All that sand and salt can be really irritating to you dog's skin. Rinse your dog off with clean water each time you come back from the beach, then follow up with a soothing, natural shampoo if your dog has sensitive skin. If you're staying at a cottage, most have outdoor showers and hoses with warm water that are ideal for rinsing off your dog. If you can't give your dog a bath, a soft brush can help remove some of the excess sand from their coat if you have a short-haired dog.
13. Protect those sensitive ears.
If your dog is prone to ear infections, dry their ears thoroughly after swimming or bathing and consult with your vet about an ear rinse solution that can be used after swimming to help remove excess moisture in the ear and prevent infections.
14. Keeping sand out of your car.
Don't even bother trying, haha! Seriously, the sand will get pretty much everywhere and there's no use stressing over it. You can keep excess sand and dirt at bay though by using large quilts or cargo covers in your vehicle to catch most of it. Shake them out occasionally and then throw them in the washer when you get home. For more tips, read
10 Tips for Keeping Your Car Clean
.
15. Don't forget the toys!
Frisbees and toys that float are good choices for the beach. A lot of dogs love tennis balls, but they can get pretty sandy when wet and your dog may not like all that sand in her mouth.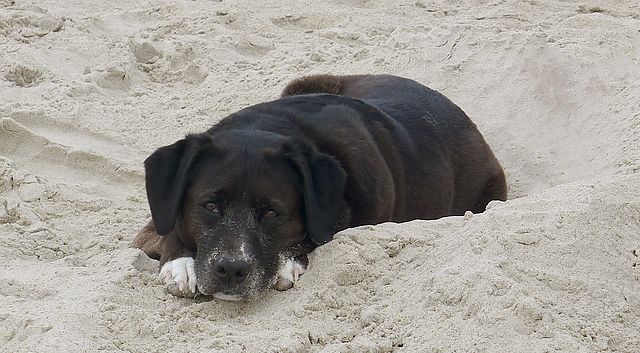 The best tip of all is to enjoy your vacation with your pup. Most dogs have a blast at the beach and some will run and play until they are completely exhausted. Between the sun, heat, waves and running in deep sand, make sure to take lots of rest breaks to just hang out, relax and maybe even take a nap together.
Are you taking your dog to the beach this summer? Share your beach tricks, tips and hacks with us!