It's surprising how many dog owners think that excessive licking and scratching is normal for dogs, but more often than not, allergies are the cause of all that itching and discomfort. In last week's post, I talked about the drug Apoquel and how it's helped Haley with her allergies, but there are also practical and natural ways to treat allergies before resorting to using a prescription drug. Find out below if your pup might be suffering from allergies, then check out the self-help section for tips for dogs with allergies.
How Can You Tell If Your Dog Has Allergies?
Allergies can start at any age with the classic symptoms of itching, scratching, licking, rubbing and rolling. Does your dog have any of the symptoms below?
Ears– Scratching the ears, warm or red ears and recurring ear infections
Paws – Licking, biting or chewing the paws and red stained fur
Belly or Genitals – Excessive licking, hair loss and red stained skin
Face – Rubbing the face and chin, red eyes, discharge from eyes or nose and sneezing
Skin – Scratching of armpits, redness or hot spots, hair loss, red stained skin, thickened or greasy skin and unpleasant odor.
Tail/Rear End – Biting, licking and butt scooting
Digestive System – Gas, vomiting and diarrhea
*Secondary yeast or bacterial infections can also be present due to excessive scratching.
What's Causing My Dog's Allergic Reaction?
These are the four main types of allergies in dogs, with atopy and flea allergies being the most common.
Atopy or Inhalant Allergy – These environmental allergens are inhaled through the nose. Common allergens are pollen, trees, grass, weeds, dust, dust mites, mold, dander, feathers and household inhalants (cigarette smoke, perfume, cleaners, etc.)
Flea Allergy – Many dogs are allergic to fleas and it's actually the flea saliva that causes the reaction.
Food Allergy – Dogs can be allergic to certain foods or proteins in food. Some vets and nutritionists believe food allergies may be caused by feeding your dog the same food for months or years.
Contact Allergy – These are allergies caused by direct contact with your dog's skin. Common contact allergies are various drugs, cleaning or grooming products, fabrics, plastic and rubber.
It can be difficult to uncover the exact cause of a dog's allergy, but here are a few clues that might help. Normally, if the digestive system is involved (gas, vomiting or diarrhea), look at food sources first. If your dog's biting around his tail end, check for fleas first. If your dog only has symptoms during part of the year, it could be a type of seasonal pollen. For year-round itching and scratching, it's probably something inside the house, like dust or dust mites. Your vet can help you narrow down the offending allergens through intradermal skin tests and other diagnostics.
For most dogs with allergies, the goal is to keep them under the threshold of scratching or licking excessively or feeling miserable. These tips may help manage your dog's symptoms and keep him under the threshold.
12 Self-Help Tips for Dogs With Allergies
1. Control Fleas
Since fleas are a common allergen for dogs, make sure to check your dog regularly with a flea comb to make sure they're flea free and treat any infestation quickly if you find any of the nasty critters.
2. Clean Your Dog's Bedding
Vacuum your dog's bedding or wash it in hot water with a natural detergent once a week to control dust and kill dust mites. Also, consider removing any stuffed toys or wash them weekly along with the bedding.
3. Keep a Clean House
Vacuum regularly and try to eliminate as much dust as possible in household furnishings. If you're considering ripping up your dust-filled carpet and installing hardwood floors, this is a great reason to forge ahead!
4. Clear the Air
Contaminants in the air can cause allergy and respiratory problems for you and your dog. Hey, if you're a smoker, here's another good reason to quit. Choose HEPA or allergy-type furnace filters and be sure to change them on a regular basis. In the summer, run the air conditioner instead of opening windows on days when the pollen count is high.
5. Use Natural Cleaning Products
Ditch those harsh chemical cleaners for natural versions, like vinegar or lemon-based products.
6. Wipe Down Your Dog
You'll want to limit the amount of time your dog's outdoors when the pollen count is high or if the lawn has been freshly mowed. When your dog comes back inside, wipe down his coat and paws with a wet cloth to remove any allergens and to prevent them from being tracked around the house. You could also have your dog wear booties while outside.
7. Give Regular Baths
Yep, your dog's probably not going to like this one, but weekly, cool water baths with a soothing shampoo can help ease itching and heal your pup's skin. Natural, anti-itch sprays or gels can also be very effective in soothing skin issues. I've heard both positive and negative opinions about using oatmeal-based products. Oatmeal is soothing but I've also heard it can contribute to yeast growth on the skin. Check with your vet for a recommendation that's best for your dog.
8. Toss the Plastic Bowls
Plastic has tiny cracks that can be a breeding ground for bacteria. Even if your dog doesn't has issues with facial hot spots or rashes, it's better to ditch the plastic versions for glass, stainless steel or ceramic bowls. No matter what type of bowls you use, be sure to wash them regularly.
9. Try Epsom Salt Soaks
To soothe your dog's paws, dissolve some Epsom Salt in warm water and soak his paws for 5-10 minutes. Just be sure not to let him drink the water.
10. Evaluate Your Dog's Diet
If you think your dog may be allergic to food, talk to your vet about starting an elimination diet to try to narrow down the source of the allergy. Also, many holistic vets and nutritionists believe a raw diet or at least a diet made from fresh, human grade food is key to successfully treating allergies, so it's worth investigating that option as well.
11. Supplement with Supplements
Talk to your vet about adding supplements such as Omega 3 fatty acids, biotin or probiotics to your dog's diet to help boost his immune system.
12. Use an Antihistamine
Most dogs get relief from an antihistamine like Benadryl or a natural antihistamine-like supplement like Quercetin. Check with your vet for a recommendation and the correct dosage.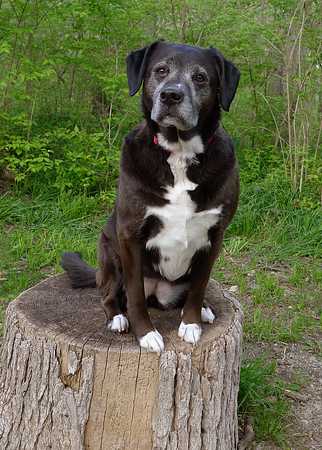 I've tried most of these self-help strategies for Haley and they've worked pretty well in the past, but as some dogs get older, their allergy symptoms get worse and they may need medications or alternative treatments. That's where we are with Haley and Apoquel right now, but I'm constantly evaluating new ways to manage her allergies.
So many people and dogs suffer with allergies. Maybe one day soon, researchers will discover the key to fixing this immune system response and allergy symptoms will be a thing of the past. Until then, if you have any tips for dogs with allergies, share them with us and leave a comment below!
---