It's springtime and for many people and their dogs, it means the return of allergy season. Haley's had allergies issues throughout her life but her symptoms have gotten worse now that she's older and our usual method of treatment (Benadryl and self help strategies) no longer keep the itching, licking and scratching under control. After reading rave reviews about the drug Apoquel and talking with my vet, I decided to start Haley on the drug about five months ago.
Haley's had amazing results on Apoquel, so as I was researching this post and preparing to write my own rave review, I came across a few websites that question the drug's safety and long term effectiveness. Judging by the overwhelming demand for the drug, it definitely appears to be effective and Zoetis, the manufacturer, seems to be stepping up production now to help meet the demand. But is Apoquel safe for dogs? Before I get into that, let me explain what it is and how it works.
What is Apoquel?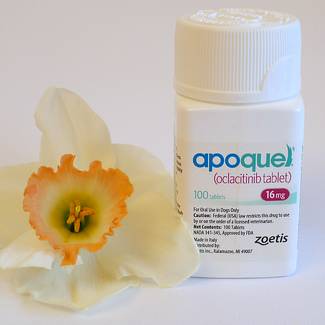 Apoquel (oclacitinib maleateis) is a prescription drug used to treat pruritus (itchy skin) associated with allergic or atopic dermatitis. It works on all common sources of allergens (flea, inhaled, food and contact) within 4 hours and lasts for 24 hours. It can be used for short-term flare ups or long-term treatment. It can also be used with many other medications such as antibiotics, NSAIDs, vaccinations, parasiticides and allergen immunotherapy. Apoquel also has anti-inflammatory properties and doesn't compromise diagnostic testing if your vet is trying to determine the underlying cause of your dog's itching.
How Does it Work?
In simple terms, Apoquel is an immunomodulatory drug which means it modifies the immune system. Here's an explanation from Zoetis about how it works, "Apoquel works at itch neurons within the skin, preventing the transmission of the itch signal to the brain and the subsequent scratching behavior and also helps decrease inflammation and redness of the skin." For a more technical explanation about how it inhibits the function of various cytokines and related JAK1 or JAK3 enzyme activity, please
read more on their website
. Apoquel claims to have a minimal negative impact on immune function with side effects listed as mild (vomiting and diarrhea) and similar to those taking the placebo.
Some Dogs Should Not Take Apoquel
The Zoetis website states, "Dogs less than 12 months of age and dogs with serious infections should not take Apoquel. It can increase the chances of developing serious infections, and may cause existing parasitic skin infections or pre-existing cancers to get worse. It has not been tested in dogs receiving some medications including some commonly used to treat skin conditions such as corticosteroids and cyclosporines. Do not use in breeding, pregnant, or lactating dogs. Most common side effects are vomiting and diarrhea."
Haley's Experience with Apoquel
Before I started Haley on Apoquel, she was miserable. She would spend a good deal of time scratching her ears, licking her paws and belly, rubbing her face and chin on the carpet and looking at me with those red, itchy eyes. She was able to get immediate relief from Apoquel. All of her allergy symptoms disappeared; no more itching and scratching, her eyes are no longer red and itchy, her belly rash caused by constant licking cleared up and she's a much happier dog. She hasn't had any negative side effects from being on Apoquel.
Is Apoquel Safe for Dogs?
Many dogs have experienced amazing results on Apoquel with dramatically improved quality of lives while their owners have praised its effectiveness and lack of side effects. On the other hand, there are also a few websites with numerous comments about dogs that developed various medical issues after being on the drug or that the drug had lost its effectiveness over time.
The problem with some of the reported negative side effects is, it's difficult to tell if the drug actually caused the medical issue or if it would have cropped up anyway, regardless of whether the dog was taking the drug. Since Apoquel is a relatively new drug, the only way to determine if there's a correlation between the two is to study the results over a long period of time. However, this statement about Apoquel from their website raised some concern with me. "It can increase the chances of developing serious infections, and may cause existing parasitic skin infections or pre-existing cancers to get worse." If a dog has an early (but yet undiagnosed) form of cancer, it's possible the cancer could get worse while taking the drug.
When evaluating the safety of any drug, also keep these two things in mind. First, understand that all dogs are different. Just as certain people have different reactions to drugs, dogs can also experience a wide range of reactions to medications. Second, no matter what drug you research on the internet, you're going to find some people talking about adverse reactions they had with their dogs.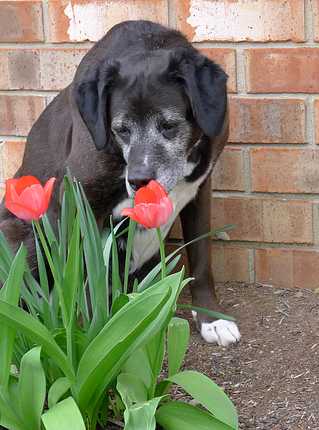 So, is Apoquel safe for your dog? I would suggest doing your own research, then talk to your vet and be sure to discuss any questions you might have about the drug. Educating yourself about the benefits and risks will help you make the best decision for your dog. For dogs that suffer with severe allergy symptoms, the benefits are impressive and the improvement in their quality of life is probably well worth the risk, especially considering Apoquel works just as well as steroids but without the negative side effects. For dogs with mild allergy symptoms, check out my post, 12 Self-Help Tips for Dogs with Allergies, before resorting to using a prescription drug.
What's my decision about Apoquel for Haley? I'm going to continue using the drug when Haley's symptoms are severe, but I'm also going to be looking into some alternative treatments and dietary changes as well. In next week's post, I'll offer some practical and natural methods to help ease your dog's allergy symptoms.
Does your dog suffer with allergies? Have you tried Apoquel or any other prescription medications?