Puppy Leaks
called
A Game of Tug is the Best Training Reward I've Found
where Jen talks about how she uses a tug toy as a training tool for her dog, Laika. Training often involves using treats for motivation but Laika loves tug-of-war so much that Jen discovered using a tug toy to play with Laika can be a powerful motivator and reward, even against Laika's desire to chase cats. Jen's article got me thinking about how important play is to most dogs and I can't help but wonder what's going on with dog owners that say they have a dog that doesn't like to play.
I've always had very playful dogs. Haley is ready to play at a moment's notice, even if I wake her from a sound sleep. But I've heard this statement from a few dog owners before and I've seen similar comments left on websites about dogs that are disinterested in playing. It's understandable that older dogs or dogs that are ill may lose interest in playing, but the idea of a dog that doesn't like toys or playing is foreign to me.
Puppies are born to eat, drink, sleep, poop and play! Play is an important part of their young lives and it's through play that they learn manners and how to get along with one another. So we know at least during this phase of a dog's life that they like to play. When someone tells me their adult dog doesn't like to play, I often wonder about the old nurture vs. nature debate. Is it in their dog's nature to not enjoy playing or did the dog owner not play very much (or at all) with their dog? I know it's somewhat common for rescue dogs to not know how to play which makes me think it's more about nurture than nature.
There are various ways to play with a dog and certainly different dog breeds prefer different play styles. Retrievers typically like to fetch, scent hounds love playing Find It or Hide and Seek games using their noses, terriers were mostly bred for chasing and rooting out vermin and like shake and kill games and squeaky toys. Herding dogs may prefer chasing games, agility or Frisbee catching. The breed or mix of breeds of your dog will give you a clue as to what type of play style they might enjoy the most.
The way we interact and play with our dogs also has a bearing on how much our dogs enjoy playing with us. Dogs seem to respond more to people with high-pitched, enthusiastic voices and a playful attitude rather than someone who is very laid-back, soft-spoken or uses a monotone voice. Dogs seem to sense when we're having fun playing which in turn increases their exuberance. They are masters of reading our body language and they look for our play signals. While researching how dogs play, I came across this interesting article on play signals by Scientific American called It's Not You It's Me.
What about dogs that don't like toys? Is it that they don't like toys or they don't know how to play with them? There's such a huge variety of dog toys: Balls of all shapes and sizes, squeaky toys, hard and soft rubber toys, stuffed toys, tug toys, treat-dispensing toys, throwing toys, etc. There are dog toys in practically every shape, size and texture to appeal to all of your dog's senses. Haley likes almost any kind of toy, except tennis balls because of the fuzzy texture on the outside of the ball. Every dog has their toy preferences, so it's a good idea to experiment with a variety of toys to find out what appeals to your dog.
I think in most cases, a dog that doesn't like to play is a dog that can learn how to play. Here are some of the favorite ways dogs like to play and some tips if you want to help your dog discover how much fun it is to play with you.
Favorite Ways Dogs Like to Play
Fetch (retrieving)
Tug-of-War
Chasing Games (chasing and being chased)
Shake and Kill
Hide and Seek or Find It Games
Stalking
Digging
Wrestling (play fighting)
Self Play (chewing on toys, puzzle toys)
10 Tips for Helping Your Dog Learn How to Play
1. Start off slow.
If your dog is timid or fearful, work at a slow pace so he's not overwhelmed. Always keep the play sessions light and positive.
2. Use stuffed Kongs.
Food-stuffed toys
are a great way to make a positive association with a chew toy. Put something tasty, such as a little peanut butter, on other toys to attract your dog's interest.
3. Have a positive play attitude.
Be enthusiastic and excited to play with your dog but try not to be overwhelming. Use
the right tone of voice
to encourage interest in playing. Heck, why not even try to initiate play with your own play bow.
4. Show interest in a toy.
If you play with and act very interested in a toy, your dog may come to investigate. He may think he's missing out on something good and decide to play with the toy.
5. Rotate your dog's toys.
Buy a variety of toys but only give your dog a few at a time. Rotate them occasionally to ensure they stay interesting.
6. Experiment with different play styles.
Every dog has their preferred methods of having fun but try different ways of playing to see if you can engage your dog. Dogs get bored, so look for inventive ways of playing.
7. Get things moving.
Movement will usually trigger a dog's chase drive and they love scrambling after something like a rope toy being dragged across the floor or a toy tied to the end of a flirt pole. Animate your dog's toys by lightly teasing your dog to peak their interest.
8. Play fair.
Don't play in a way that frustrates your dog or he'll likely lose interest in playing with you. Light teasing with a toy to get his attention is good, but don't play extended keep away or grab toys out of his mouth.
9. End the play session if your dog gets over-excited.
Games like tug-of-war or wrestling can cause some dogs to get pretty riled up. Growling is normal, but if you sense your dog is getting too worked up or he's playing too aggressively, have him drop the toy and take a break from the action.
10. Control the game.
Don't continue playing until your dog is exhausted or loses interest. Stop the action a little early while he's still interested to make him excited about playing with you again next time.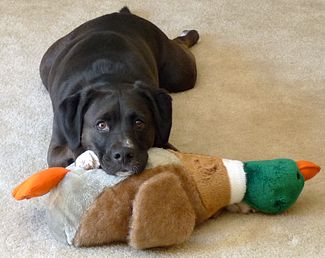 Puppies learn from playing with their mother and littermates and as adults they continue to learn by playing with you. It may seem like you're just providing some casual entertainment for your pup while playing, but he's learning manners, self-control and problem-solving skills. He's also getting some mental stimulation and exercise while you build a strong bond together.

I'm curious what you think about a dog that doesn't like to play. Is it nurture or nature? Also share your tips if you ever had to teach an adult dog how to play.

Update: If your dog brings a toy to you but doesn't seem to want to play, maybe your dog wants to make a trade. Check out my post, Do Dogs Barter? – Trading Toys for Treats.

I recently read an interesting article by Jen from