Note: This is NOT a paid or compensated review, but a review of a product that I purchased for my own use. I enjoy sharing information about products you may like or find useful and you'll always receive my honest and unbiased opinion.
What dog doesn't like a ball to chase, right? There are more dog balls and toys on the market today than ever, so finding the best dog ball for your pup should be a pretty easy endeavor, unless you're Haley of course. A lot of dogs like Haley enjoy bouncing balls off their noses, so lightweight balls like beach balls are perfect for this type of play. There's just one problem though, they last about 30 seconds before those canine teeth puncture through the plastic and your dog parades around the room with their fresh kill. I guess it's like popping bubble wrap to us humans.
Haley's tested a lot of inflatable balls, from beach balls to children's inflatable toy balls to exercise balls but the only ball with some bounce that can withstand Haley's fierce fangs has been a basketball. It's been Haley's ball of choice so far. Basketballs are pretty heavy though and tough on her nose, so I'm always keeping an eye out for other options. Which brings us to today's post! A review of the One World Futbol by One World Play Project.
Let me tell you a little bit about the One World Futbol. It's a soccer ball (as we call it here in the US), but it can be used for many types of games. But wait, this is not your ordinary soccer ball because it never goes flat and never needs a pump, even when punctured.
The self-inflating bladder built into the ball is designed for durability and practically indestructible play. The reason behind the design is something pretty special too. This ball was not designed for dogs, but designed for empowering youth and strengthening communities worldwide through play. The Buy One Give One program works like this, when you buy a One World Futbol, the project donates a second ball to an organization working with disadvantaged youth in various communities around the world, especially in areas affected by war, disasters, disease and poverty. The program's founding sponsor is Chevrolet and through the Buy One Give One program, over one million balls have been donated and distributed throughout the world.
I discovered this project while researching new balls for Haley and it seemed like a wonderful program, so I decided to give it a try. Here's my review!
The One World Futbol Review
The ball arrived soon after I ordered it and Haley, being the master box inspector, was excited to discover her new ball inside. She seemed to like it right away and immediately tested the puncture resistant quality. Even though she left plenty of fang marks on the ball, it passed the puncture test with flying colors. Before taking it outside, I added a bit of air to the ball by pushing in the circle-shaped valve a few times. That's a pretty cool feature!
Once outside, Haley gave it the bounce and chasability test (that should be a real word for dog ball testing, btw). Haley likes to bounce the basketball off her nose and she tries to keep it in the air as long as she can (like in her March Madness Video) and she was able to play the same way with the Futbol. It had plenty of bounce and was lighter in weight than her basketball, which means it's much easier on her nose. Here's a look at the Futbol in action!
The Bottom Line
I was really impressed with the One World Futbol because it's so durable and it has the built-in pump. Haley loves it almost as much as her basketball. The only negative point is she doesn't chase it as much because it has a softer exterior and she tends to pick it up and carry it in her mouth, rather than push and chase it with her nose. The ball claims to be nearly indestructible and after six months of play, we haven't had any issues with it and we haven't had to add any additional air to the ball. Even though it's covered with fang marks now, it's held up well to all the tooth abuse. Haley gives it "two paws up" and I would highly recommend it for dogs, kids or adults.
Play is important for both dogs and people and it feels good to know that in many places around the world, kids are benefiting from this project and having fun playing with the donated balls. If you would like to buy a Futbol, visit the One World Play Project website. The balls cost $39.50 for the blue or gold color and $44.50 for the green, orange or pink colors. The price includes both balls, the one that is shipped to you and the donated ball and they come in sizes 4 (youth) or 5 (adult). If you're not interested in buying a Futbol for yourself or your dog, you can still donate a ball for the cost of $25.00 each.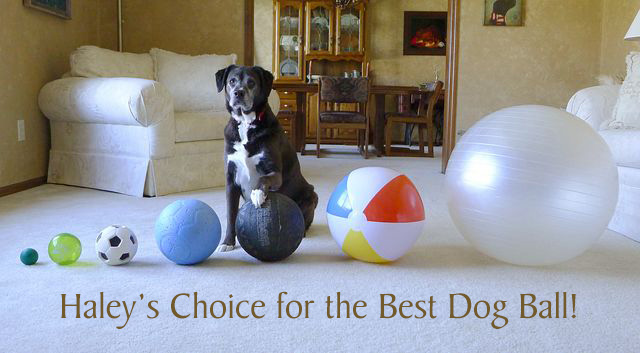 Our search for the best dog ball doesn't end here, but this was a great investment for Haley and a great investment in kids around the world. Have you found the perfect ball for your dog? Tell us what it is and what your dog loves about it!