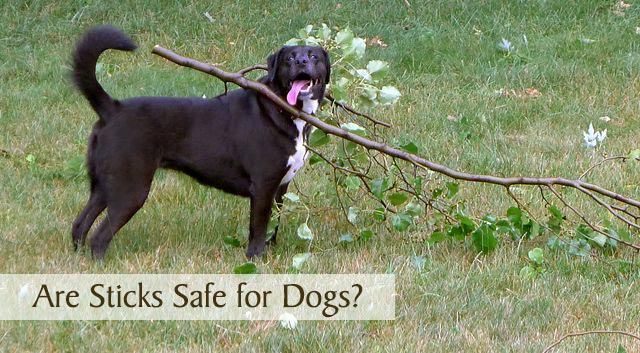 Like a lot of people, I grew up throwing sticks for my dogs to chase and I've done the same thing with Haley when hiking through the woods or playing on the beach. Throwing a stick for a dog seems like a natural thing to do and a lot of dogs like to chase and chew on sticks. Most people could live a lifetime with many dogs and never experience a problem from their dogs playing with sticks but if you ask your vet the question "Are sticks safe for dogs?" you'll find out that it's pretty common for dogs to become injured by them. Here are some things that can happen.
5 Ways a Dog Can Be Injured by a Stick
1. Dogs can impale themselves on a stick.
This is probably the most common way that sticks can cause an injury, especially if the stick is thrown end over end. If the stick gets stuck in the ground in an upright or forward facing position, it can become a spear for a dog that's running full speed towards it. A dog can pounce or fall on the stick or try to grab it while running and possibly impale the roof of their mouth or throat. Another risk is when a dog retrieves the stick and carries it from the end rather than the middle. They can easily impale themselves while running back to you if the end of the stick hits something like a tree or the ground, especially if they're jumping over obstacles.
2. Chewed or swallowed pieces of wood can cause splinters and obstructions.
Smaller pieces of wood or splinters can become lodged in a dog's gumline or other areas of the mouth. If swallowed, those pieces can also cause potential problems such as obstructions in the respiratory or digestive system. It can be a challenge for vets to find small splinters or pieces of wood after removing a larger piece because those small, rogue splinters often don't show up on X-rays and could cause an infection requiring a second surgery later.
3. Dogs can shear off pieces of a stick that can become wedged in their mouths.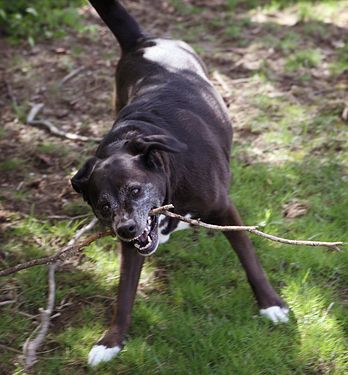 This is probably not as common, but it actually happened to Haley once. She likes to break sticks into pieces with her back molars. Those premolars are so efficient at shearing, she cut right through both sides of the stick and the piece left in her mouth became wedged between her top molars. In Haley's case, I was able to reach in and remove the stick even though she was very frantic but I was lucky that she didn't accidentally bite me in the process. Luckily, she was fine afterwards but sometimes a wedged piece of stick can cause injuries to the mouth.
4. Dogs can be injured by a falling stick.
Some dogs run so fast that they can get to the fall zone well before the sticks lands. A falling stick can cause head and eye injuries as well as harm to other parts of the body. Even if you keep your dog in a stay position and wait to release her, the stick could still be lodged upright in the ground when your dog finds it.
5. Multiple dogs can injure each other while playing with sticks.
Haley's favorite play buddy was my parent's dog, Penny. They loved chasing after sticks together when we would visit the farm. Neither ever got hurt while chasing and wrestling with all those sticks, but like this picture illustrates, one quick cut in the wrong direction while another dog is trying to grab the stick could result in an injury. It's a good idea to avoid throwing sticks in areas like dog parks where several dogs are romping, wrestling and competing for toys.
Safer Alternatives to Sticks
If your dog loves to retrieve sticks, consider switching to safer alternatives such as the Kong Safestix, a hunting dog bumper or one of the many toys on the market that are shaped like a stick but made of soft rubber. I like the Kong Safestix because it also makes a good tug-of-war toy. If you have a puppy or young dog that likes chewing on sticks, start early on preventing it from becoming a habit by replacing sticks with safer toys or bones. Also, regularly check your yard for any sticks that may have fallen out of trees.
I have to admit, I'm somewhat on the fence with this topic because it seems like dogs and sticks go together as much as peanut butter and jelly. It also seems like every other article we read these days is about how dangerous something is. Yet, it's important to know what the risks are especially if this is something you do often with your dog. Haley's played with a lot of sticks in the past but now I'm thinking about switching to some safer alternatives.
I'm really curious to know what you think. Are sticks safe for dogs?