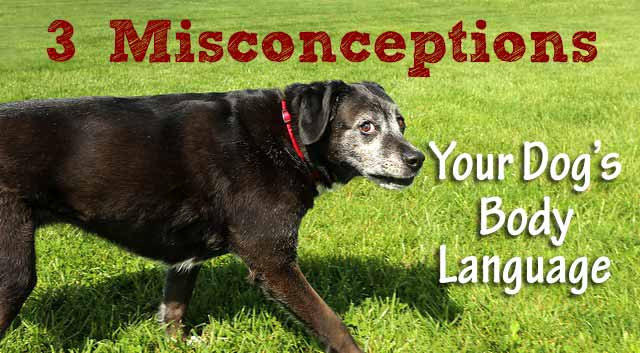 Dogs are masters of reading our body language, but how well can you read your dog's cues? While observing a dog's behavior, some signals are confusing and might not mean what we think. Have you ever heard any of the following statements about dog body language?
3 Misconceptions About Dog Body Language
1. "He's friendly because he's wagging his tail."
Dogs wag their tails for a number of reasons. If their body is very loose or wiggly and they're wagging their tail sideways or in circles, that's probably a good sign that they're friendly. An alert, dominant or aggressive dog may still wag their tail, but generally their body and the base of their tail is stiff or tense. A lowered tail that's wagging back and forth quickly is usually a sign of a submissive dog.
2. "When a dog raises his hair, it means he's aggressive."
When you see a dog's hackles, it doesn't always mean the dog could become aggressive. If the hair on their back is raised between the shoulders and tail, the dog could be alert, excited or fearful. When the hackles are around the shoulder and extending up the back of the neck, it's usually related to dominance or aggression. Haley raises her hackles along her back and tail area when she's excited about meeting or playing with a new dog. Her tail will also become bristly when she's on alert.
3. "A yawning dog is a tired dog."
Dogs may yawn when they're tired but sometimes they yawn when they're stressed or when they're trying to calm another dog. Yawning is just one of the many calming signals used by dogs in various situations.
Analyzing a Dog's Body Language
I love this infographic created by
Lili Chin
. It's been circulating on the internet for a while, but it's still one of the best illustrations for decoding canine body language.
Can Dogs Give Mixed Signals?
Yes, sometimes dogs can have conflicted emotions and display mixed signals. That's why it's important to avoid focusing too much on just one signal. Look at their entire body and observe all of the various parts to get a complete picture of what they might be feeling. It's also important to keep in mind that well-balanced dogs display a wide range of states. Sometimes they're happy go lucky and other times they may be dominant, submissive or fearful. Here are some common characteristics to look for when trying to read your dog's body language.
What's Your Dog Feeling?
The Relaxed Dog – The eyes are soft and blinking normally, the ears are in a half-back or relaxed position, the mouth may be open or closed but the jaw is relaxed, the body is relaxed and loose and the tail is held in a relaxed, straight or slightly lowered position.
The Friendly Dog – The eyes are slightly crinkled or squinted, the mouth is usually open and relaxed (almost appearing to smile), the body is standing normally or loose and the tail is wagging softly or excitedly (with a wiggly rear end). A friendly dog may also whine or yelp if they're excited.
The Alert Dog – The eyes are open wide with an alertness (pupils may also be dilated), the ears are up and alert (possibly moving to tune in sounds), the mouth is most likely closed, the nose may be sniffing to gather more scent, the body is tense and stiff and the tail may be raised and stiff at the base with only the end wagging slightly.
The Fearful Dog – The eyes are small and narrowed, the head is lowered with the ears back or held flat against the head, the corners of the mouth may be pulled back toward the ears, the body could be tense, frozen or in flight mode, hackles may be raised and the tail is low or tucked between the legs towards the belly. Less exaggerated versions of these same signals may also be present in a submissive dog.
The Nervous Dog – The eyes are partly narrowed (pupils may also be dilated), the ears are half back, the mouth is closed and tense and may display calming signals (yawning, licking or tongue flicking) and the tail is lowered.
The Dominant Dog – The eyes are wide and staring, the ears are up and facing forward, the mouth is open, the body is erect (and may be leaning forward), hackles may be raised and the tail is held higher (possibly bristled or wagging slowly). Dogs displaying an intense, hard stare with the corners of the mouth coming forward or showing their front teeth along with a very tense body and tail that's stiff at the base, could become aggressive.
The ability to read your dog's body language gives you a valuable tool for helping your pup if they're feeling uncomfortable, stressed or fearful. It also allows you to recognize potential problems with dominance or aggression so you can address the issue before it escalates.
Do you rely on reading your dog's body language? Tell us how it's helped you or your pup in the comment section below!