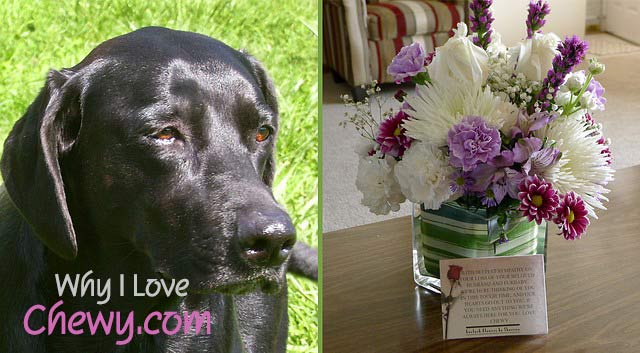 Note: This is NOT a paid or compensated review, but a review of a company that I've purchased products from. I enjoy sharing information about companies that provide great value and service and you'll always receive my honest and unbiased opinion.
I've been ordering food and pet supplies from Chewy for quite a while now and I've been thoroughly impressed with the company, but what they did last week for my mother just blew me away. Here's why I love Chewy.com!
10 Reasons Why I Love Chewy.com
1. Chewy Cares
It's been a pretty rough year for my family, as my Dad had been sick most of the spring and summer, then passed away last month. It's been most difficult on my mother, but at least she had their senior dog Lucy to keep her company through it all. Sadly, one evening last week Lucy passed away. My mom had just ordered a case of food from Chewy that arrived earlier that day. She contacted them a few days later to see if she could return the unopened package. A very caring customer service representative listened to my mom and offered her very sincere condolences. Chewy refunded the entire order and asked my mom to donate the food to a local shelter in Lucy's name. My mom was utterly surprised a few days later when a beautiful bouquet of flowers showed up at her door—from Chewy.com!
My mom was so touched by this thoughtful gesture, I just had to share this with you. What an amazing company! Chewy also cares about pets, of course. They even have a program to support registered, non-profit organizations that do so much to help pets and shelters in need.

2. Great Prices
Let's face it, we all like saving money. Chewy has low prices on almost everything they carry. It's much cheaper for me to order Haley's food from Chewy than to purchase it from any of my local, chain pet stores.
3. Fast Shipping
With warehouses all over the country, Chewy can usually get your order to you within 1-2 days. They only ship within the contiguous US, but if you order by 4:00 pm EST, your order will normally ship the same day. All of my orders have arrived within 2 days shipped via FedEx.
4. Free Shipping
Besides getting your pet food, toys and supplies at low prices, Chewy will ship your order for free, if your order totals $49.00 or more. If your order total is less than $49.00, it ships for a very reasonable flat fee of only $4.95!
5. Autoship Option
Do you want to save even more money? Choose the Autoship option when you place your order. You tell Chewy how often you want a product shipped and they make sure it arrives on your doorstep when you need it. Autoship is easy to set up and you can pause, change or cancel shipments at any time. No more running out of food if you forget to reorder.
6. Easy Returns
Chewy.com wants you to be satisfied with your purchase. That's why they offer a
100% Unconditional Satisfaction Guarantee
. They give you 365 days from the sale date to return any item you're not completely happy with, for any reason. You get a complete refund and they'll even pay for the return shipping. Just call one of their customer service reps at 1-800-672-4399 for more details if you need to return an item.
7. Exceptional Customer Service
If you have a question or problem, Chewy's customer service is available 24/7 by phone, email or online chat. You'll get a real person on the phone that's responsive and knowledgeable, ready to help with whatever you need.
8. Vast Selection of Products
Chewy carries around 18,000 items for dogs, cats, fish, birds, small pets and reptiles! Everything I've purchased at my local, chain pet store is also available on Chewy's website, usually at lower prices.
9. Quality Brands
I'm impressed with Chewy's selection of high quality foods, many of which can't be found at the local big-box pet stores. You can also be assured you'll receive fresh food when you order from Chewy.
10. User-Friendly Website
The clean design and usability of Chewy's website makes it simple to order (and re-order) your pet supplies. It's easy to search for items and view a history of your orders, as well as track orders that have already shipped.
Chewy.com was founded by people with a passion for pets, and it shows. I have to apologize if this article reads like a sponsored post. It is not. I just believe in supporting and rewarding companies that go above and beyond and this is certainly the case with Chewy.
Here's a picture of my parents when Lucy and her sister Nikki were puppies. I'm sure my Dad is up there somewhere, playing with the dogs, laughing and giving lots of belly rubs.

Thank you Chewy for bringing my mom some joy last week with your very compassionate and thoughtful gesture. The flowers are gorgeous and it gives me even one more reason why I love Chewy.com!
Have you tried Chewy.com yet?