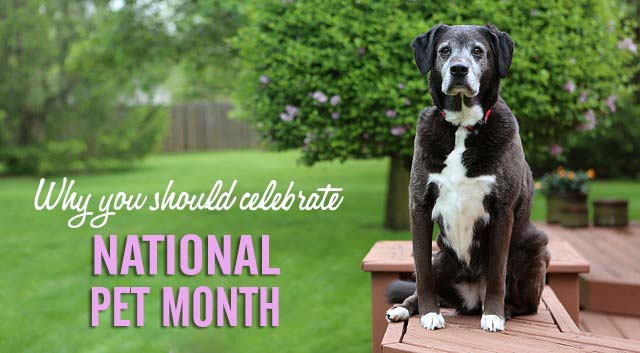 I know, you're probably rolling your eyes at the thought of another "National" something or other day or month, but this one is all about our best friends. Let's face it, we all get lazy sometimes or settle into a routine with our pups, so the month of May is a perfect time to shake things up and celebrate National Pet Month!
What the Heck is National Pet Month?
National Pet Month
is a holiday that was started in England to celebrate the benefits that pets bring to peoples' lives. It's celebrated during the month of April in the UK and during the month of May here in the US. Here are the four goals for celebrating this holiday.
Promote responsible pet ownership
Make people aware of the benefits of pets for people and people for pets
Increase public awareness of services available from professionals who work with animals
Raise awareness of the role, value and contribution to society of working companion animals
10 Ways to Celebrate National Pet Month
1. Adopt a Pet
Yep, this would be the ultimate way to celebrate! Head to your local shelter and see if your new best friend is waiting there for you.
2. Foster a Pet
If you're not ready for a furever friend, consider fostering a dog or cat in need.
3. Volunteer
There are many ways to volunteer your time or talent to a local shelter or rescue. Maybe you can volunteer to work a few hours each week or offer your expertise to help train or take pictures of dogs to make them more likely to be adopted. You can also post images of adoptable dogs and cats on your own social media networks.
4. Donate
While doing your spring cleaning this month, gather any towels, blankets, pet toys, food or treats that you can donate to a local shelter. Of course, they also appreciate financial donations as well.
5. Recommend a Professional
If you love your vet, dog trainer, groomer, pet sitter, dog walker or any other pet professional, help spread the word about how fantastic they are.
6. Walk a Dog
Walking a shelter dog is a perfect opportunity to exercise while also helping a dog get some exercise, socialization and training. All of those things may help a shelter dog get adopted sooner. Some shelters even supply vests for the dogs to advertise they're available for adoption.
7. Therapy Dog Training
If agility and fly ball don't appeal to you, but you would like to do something more with your dog, think about taking a
Canine Good Citizen
certification class. As a therapy dog, your pup can help kids learn to read at your local library or bring some cheer to children or seniors at a local hospital or senior care facility.
8. Visit a Friend
Dogs love to get out of the house and perhaps you know a friend, relative or senior that would enjoy a visit from you and your cheerful canine.
9. Share the Joy
When someone stops to admire or pet your dog, share with them about how much unconditional love and joy your pet brings to your life and the many benefits of owning a pet.
10. Set an Example
Promote responsible pet ownership by training your dog and setting a good example of
pet etiquette
.
Our dogs give us their unconditional love and companionship, they make us laugh and lower our blood pressure, they keep us healthy by being motivational exercise partners and so much more. Our sweet pups do so much for us even though we sometimes get into a rut, skip a walk or get caught up in our busy lives. National Pet Month is a good reminder to keep things interesting for our dogs and to take some extra time to give something back, like trying some of these fun activities.
10 Fun Ways to Celebrate With Your Dog
1. Go Exploring
Take your dog for a walk or hike somewhere new and give them extra time to stop, sniff and explore all of the new scents.
2. Playtime With a Friend
Visit a dog park or
arrange for a playdate
with your pup's favorite play buddies.
3. Make Some Treats
What dog wouldn't want to hang out in the kitchen while you mix and bake his favorite ingredients into some
tasty homemade treats
?
4. Go Shopping
Visit your local pet store and allow your buddy to pick out a few toys or a bone.
5. Shop Online
Order a new, stylish collar or maybe upgrade that old, worn out bed with a new model. Plenty of beautiful handmade dog products can be found on
Etsy
.
6. Challenge Your Dog
Most dogs love a challenge, so teach your dog a new trick, set up an obstacle course in the back yard or play a game like
Find It
.
7. Plan a Day Trip
Visit a new park and explore some interesting trails or plan a trip to a beach or lake where your dog can swim and dig in the sand.
8. Try a New Activity
Try something completely different with your dog, like kayaking or canoeing or relax with a
Reiki
or
Doga
class.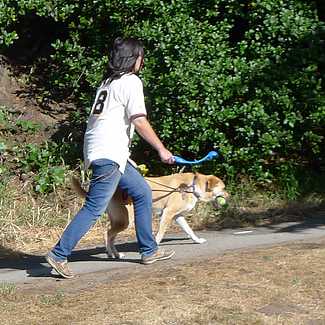 9. Give a Massage
If your dog loves belly rubs, he'll really enjoy getting a long, relaxing massage from you. Good news! It's beneficial for you too because it helps reduce stress and anxiety.
10. Let Your Pup Decide
Whether it's a hike, belly-rub or some playtime, you know best what your dog enjoys the most. Spend some quality time together, then head to the nearest Starbucks and treat your pup to a Puppuccino! 🙂
---
---
I don't take most of these "National" holidays too seriously, but sometimes they can be a helpful reminder for us. Feel free to skip National Whiners Day and National Have a Bad Day Day, but do at least one thing this month to promote the benefits of pets and spend some quality time with your dog or cat. How do you plan on celebrating National Pet Month?