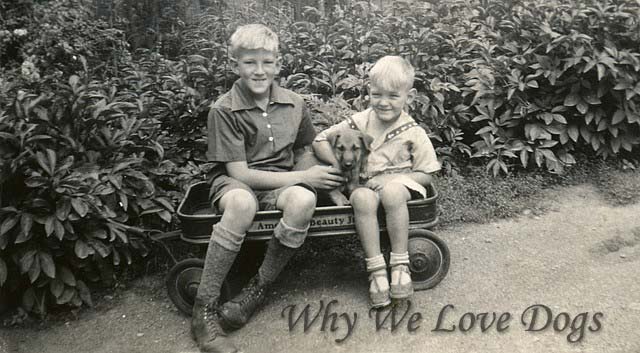 What do you do when your web hosting company struggles to get your server back online and healthy? These last couple of days have been pretty frustrating, but if you're reading this, at least the server is operational at the moment and hopefully they've resolved the issue. It's so aggravating when there's nothing you can do about a problem except wait for someone else to fix it, but the server downtime did give me the chance to look through some old photos and discover one reason why we love dogs so much.
I love vintage photos and while browsing through some images of my family, I was surprised at how many pictures my parents, grandparents and even great-grandparents had taken with their dogs. It was interesting to discover just how much they loved their family pets and I guess they passed their love of dogs down to me as well. Maybe it's one of the biggest reasons why we love dogs; it's in our genes!
Here are a few of my favorite family and fido pics!
---
---
I love this photo with four generations of my mom's family along with a few of their dogs and the family cat.
---
Here are my dad's grandparents giving some love to a pair of St. Bernards while on vacation.
---
Did you inherit your love of dogs from your family? You don't have to wait for unscheduled downtime by a web hosting company in order to drag out that box of old family photos. Take a look today and share your favorite image of family members with their pups by uploading a photo in the comment section!