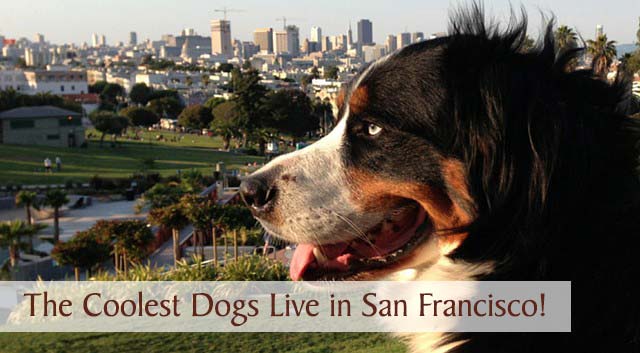 I know, I know — there are cool canines all over the United States and across the globe, but there's something quite unique about San Francisco dogs. Maybe it's the vibe of the city itself or the sheer number of dog lovers and their pooches that reside there, but it's true — the coolest dogs live in San Francisco!
It's hard to believe that it's been over two years since my very first blog post, Keeping San Francisco Dog Friendly, which I wrote after visiting my son and daughter-in-law in the City by the Bay. I LOVE it when they send new SF pup pics my way, so I thought I would share these gems from Brandon and Colleen.
Check Out These Cool San Francisco Dogs
---
---
---
Even the Street-Art Dogs are Cool
I'm pretty sure all of these works of art were adapted or created by street artist,
fnnch
. The original pavement signage had a lab-type dog to remind people to keep their dogs on a leash.
---
---
---
Want More?
In case you missed the slideshow from my very first post (lets face it, everyone missed my very first post, lol), here you go. Enjoy!
[doptg id="1″]
---
What do you think? Are San Francisco dogs the coolest? Prove me wrong by uploading your pup's hip pic in the comment section below and I'll display it here.
Your Cool Pup Pics!