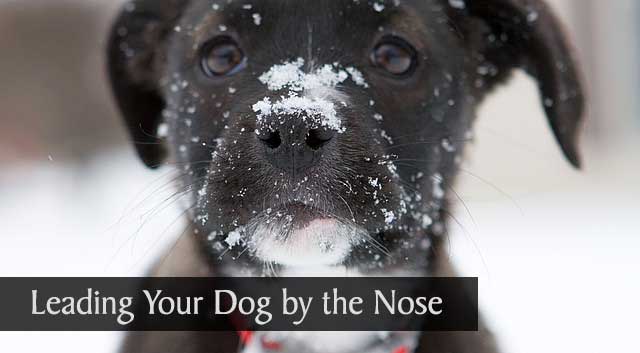 This training tip is so simple it almost seems silly to write about it, but some dog owners might not realize how effective this positive training technique can be when training a new behavior. Leading your dog by the nose means you're using your pup's primary sense, his sense of smell, to motivate him to learn more quickly. What's the motivator? Food, of course! Let's face it, all dogs have to eat and most are highly motivated by treats or tasty food.
The trick isn't just giving food as a reward, it's using the food to direct your dog's body movement from their nose while learning a new command. By holding the food close to their nose, without letting them grab it, they'll usually follow your hand into the desired position while you give a verbal command or hand gesture. Soon, they'll make the connection between the action and the verbal command. Here are a few examples.
Examples of Leading Your Dog by the Nose
Sit Command– The treat is held close to your dog's nose then raised slightly. As your dog follows the treat upwards, his backend will automatically lower into a sitting position. To learn more about teaching the Sit command, check out my post The Most Useful Command to Teach Your Dog.
Down Command – From a sitting position, the treat is held close to your dog's nose, then slowly lowered as your dog follows the treat to the floor and lowers himself into a down position. Read How to Teach Your Dog the Down Command to learn more.
Roll Over – From a down position, lure your dog's nose up and around so he'll follow the treat with his nose and roll over.
Here's Haley following her nose while demonstrating the Down command.
When some people train their pups, they hold the treat close to their body as if to say "This is mine until you hold up your end of the bargain", but in the examples above, the treat is held close to your dog's nose and only given when he follows through with the command. For commands that direct a movement, this can be a powerful training tool because it enlists your dog's appetite as well as his strong sense of smell. It's also important to give lots of praise when your pup is successful when learning the new command.
Isn't That Bribing My Dog to Comply?
Maybe, but only when you're first starting to train the new command. Let me explain the difference between a bribe and a reward. A
bribe
is given before or during a behavior to lure your dog into following a command and a
reward
is given after the dog performs the desired behavior. With this technique, you are luring your dog by his nose into a position, but only giving the treat as a reward if he follows through. Once your dog starts to catch on to the associated verbal command or hand gesture, you'll start holding the treat further away until eventually he'll follow the command without seeing the food first.
After that point, you'll transition to intermittent rewards or use others types of non-food rewards, such as praise, affection or playtime. Other ways of rewarding your dog can be to ask him to sit before getting his meal, going outside or playing a game of fetch. Even after your dog knows a command well, there's nothing better than an occasional, unexpected food reward to help reinforce good manners and listening skills.
Won't My Dog Get Fat?
There are several ways to use food as a reward without adding a lot of extra calories to your dog's diet. If you feed your dog kibble, you can just take a portion from their daily meal to use as training treats. You can also purchase small, low-calorie training treats from your local pet store or use small pieces of meat or cheese. Remember, you'll be working towards intermittent treats and eventually using other non-food types of rewards too.
Does This Technique Work With all Commands?
No. There are some commands, such as the
Stay
command, where holding a treat will be counterproductive since a dog's instinct is to move towards something that smells yummy. In this example, it would be better to keep the treat in your pocket or out of sight until your dog performs the command.
Wrapping It Up
Leading your dog by the nose uses food along with your dog's appetite and sense of smell to make training success quicker and easier. Food can be a powerful reward and reinforcer of behavior for your dog and even though this technique is kind of like having a canine magic wand, you'll want to make the transition from bribe to reward fairly quickly.
What's your experience with using food or treats when training your dog?
---