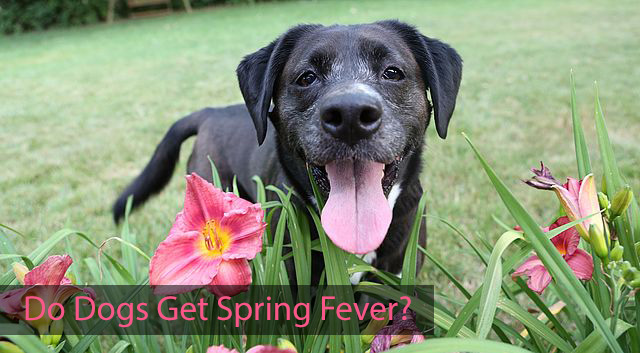 How do you know when spring is about to arrive? Here in the Midwest, it's been a long, cold winter and I've been searching for signs of life under all this white stuff covering the ground, but I haven't seen a Grape Hyacinth or Daffodil bulb spouting through the soil yet.
Then it happened! I got the official word yesterday from my dog Haley, that spring has finally arrived, and it came in with a bang this year. Dogs love their routines and one of Haley's daily rituals is to ask to sit in my lap in the late afternoon for a belly rub (aka the afternoon lovefest). She usually rests her chin on my leg as a reminder that "it's time", but yesterday, she sprang onto the couch where I was sitting, got in my face and reminded me with an intense stare and a demanding groan.
I was both shocked and amused because Haley's normally a very mannerly girl, and then it hit me. Here I had been looking outside for signs of spring, forgetting that each year my dog is happy to inform me when it arrives by ushering in the season with an attitude. It's a two week celebration of her being a bit pushy or cocky. When she was young and displayed this attitude in the spring, I laughed it off and joked about her having spring fever, I figured the timing was just coincidental. Now, after witnessing this phenomenon for eight years, I'm convinced that dogs get spring fever.
I've never heard any other dog owners talk about this before, but Haley definitely gets a bit of an attitude. The change in season stirs something inside of her (just like us humans) and she becomes full of life, full of energy and full of herself. I love observing this reawakening each year, that extra sparkle in her eyes, the spring in her step and even the feistiness that comes along with it. It's a time to reinforce training and to remind her of the rules, even though I'm secretly laughing on the inside because it's so unusual for her to act this way.
I wonder what triggers spring fever in dogs. It makes sense that intact male and unspayed female dogs would behave differently in the spring since it's a common heat and breeding season, but what about spayed dogs like Haley? Is she still influenced by the biological, breeding cycle clock? Is it triggered by a reduction in her melatonin level (the sleep-inducing hormone) that happens when the days start to become longer? Whatever the cause, it's always funny each year when canine spring fever hits. Haley's antics make me smile while I'm waiting for the last snow to melt and the tulips to greet the sun once again.
Do dogs get spring fever? I say, yes! What have you observed about your dog's behavior in the spring? I'd love to hear your thoughts!