Something odd happened not too long ago that made me feel pretty unobservant as a dog owner and left me intrigued about my dog's behavior. The question "Do dogs barter?" had never crossed my mind until…
One day, sitting comfortably on the couch (notebook in lap and visiting lots of amazing dog blogs), I noticed Haley had arrived in front of me with her favorite toy, her blue chase 'n chomp squeaky toy. With one hand on the keyboard, I threw the toy across the room like I usually do expecting that we would play a game of one-handed living room fetch but she didn't move a muscle, she just stared intensely at me. Hmm, weird. I said "Haley, go get your toy!" but instead of chasing after the toy like she normally does, she pointed with her nose to the candy dish beside me on the table.
At first I didn't think too much about the fact that she wanted York Peppermint Patties from the candy dish. She would be a major chocoholic if she were a human. She stood there and continued to stare at me for a minute then scrambled off to retrieve her toy. Again, she brought it to me but this time tossed it into my lap and immediately pointed again to the candy dish.
Suddenly, a light bulb went off in my head. Oh my gosh, she's wanting to trade her favorite toy for a York Peppermint Patty! To test my theory, I threw the toy again to see if it was just my imagination or a strange coincidence, but she again nosed her toy into my lap and told me what she wanted in exchange.
Wow! I couldn't believe what she was doing. Could dogs possibly understand the concept of bartering? I never really thought about it before that day. I wondered why she never tried to barter with me before, but then I remembered there had been many times in the past when I thought she wanted to play because she presented me with a toy, yet she seemed uninterested when I tried to play with her. I only connected the dots on this occasion because the candy she wanted happened to be right beside me on the table and she could easily point to it right after giving me her canine currency.
At that moment, I felt like a dog in training, struggling to understand what my owner was asking of me and then suddenly having the "Aha Moment" when it all clicks! You know that moment when your dog connects the dots and you can almost see it in their eyes, "Oh, that's what she wants me to do." That's exactly how I felt. My dog had been trying to train me for years on how to barter with her but it turns out that she learns a lot faster than I do sometimes. Luckily, she's a very patient trainer of humans.
Since Haley shouldn't eat a York Peppermint Patty, I decided to give her a choice of treats and in the process, find out exactly how much her coin-shaped chase 'n chomp was worth to her. What is the value of this treasured toy?

Q:

How much is a chase 'n chomp toy worth in trade?
A:

One Full Moon Sliced Chicken Jerky treat!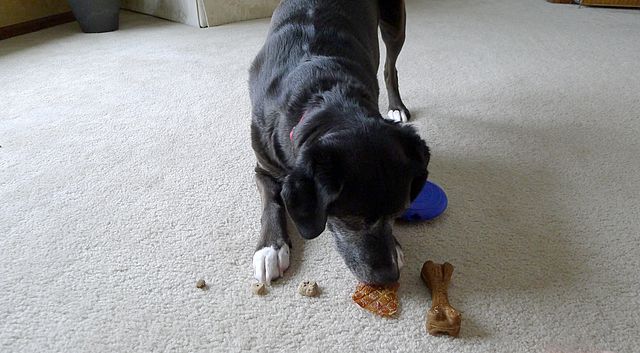 Haley makes out like a bandit with her trades because she always gets her toy back after a short period of time. Perhaps this should be a toy lease program instead.
Do dogs barter? Yes, I believe a lot of dogs attempt to trade their possessions for something they want. Have you ever noticed this behavior with your dog? Maybe you figured it out a lot quicker than I did!