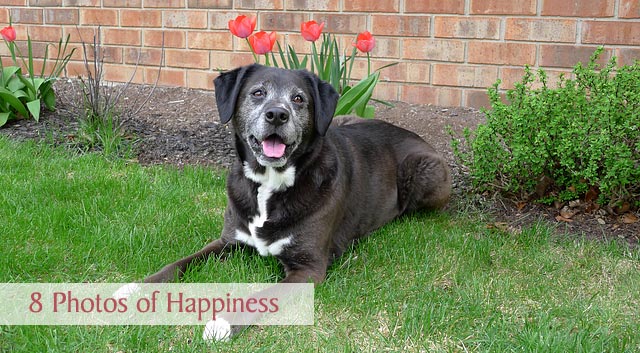 It's Monday and everyone can use a little pick-me-up on a Monday morning, right? Today's post is all about putting a smile on your face and getting your week off to a great start. Fiona from Muffin the Muse nominated me to participate in 8 Photos of Happiness which was created by Ariel's Little Corner of the Internet. I don't know about you, but it always makes me happy when I look through my old photos, remembering fun times and laughing at goofy pics that were taken. I'm also a firm believer in having an attitude of happiness and gratitude, so I'm "all in" on this one. I did decide to change it up a little bit though by adding a quote along with each photo. Enjoy! 🙂
Haley's 8 Photos of Happiness
Those who bring sunshine into the lives of others, cannot keep it from themselves.James M. Barrie
Count your age by friends, not years. Count your life by smiles, not tears.John Lennon
Sanity and happiness are an impossible combination.Mark Twain
It is not how much we have, but how much we enjoy, that makes happiness.Charles Spurgeon
Independence is happiness.Susan B. Anthony
Nobody can be uncheered with a balloon.Winnie the Pooh
Jumping for joy is good exercise.Author Unknown
Happiness is a warm puppy.Charles M. Schulz
My Bonus Photo of Happiness!
I had to include one more photo from a Gary Allan concert we attended this past weekend. The concert was fantastic and to top it off, Gary brought his dog Lucy on stage to hang out during the encore. See if you can spot her in the image below.
Now I Want to See Your 8 Photos of Happiness!
I decided to nominate these four blogs since I've been wanting to get to know them a little better.
Paved by Paw Prints
Whiskers to Paws
Inspire Greytness
raebyday
If you decide to participate, just follow the steps below.
1. Post your 8 photos of happiness.
2. Thank your nominator and provide a link to their blog.
3. Link to the creator of this event, Ariel's Little Corner of the Internet.
4. Nominate some of your favorite bloggers to participate.
Thanks Fiona and Ariel for including me in this event. The hardest part was picking only eight photos, haha! It was fun putting the post together and I hope it makes everyone's Monday just a little bit happier.
When you look through your photos, which ones make you the happiest?