Pet obesity continues to be a problem here in the United States. A survey conducted last year by the Association for Pet Obesity Prevention estimates that 52.7% of dogs in the US are either overweight or obese. But what's more surprising is that 95% of dog owners identified their dogs as being normal weight. Our overweight dogs have an elevated risk of injury, illness and disease so it's important to take action to help them become healthier by losing those extra pounds. The good news is, the process of helping them doesn't have to be complicated or difficult. If you want to monitor your dog's calorie intake by using formulas such as [(pet's weight in lbs/2.2) x 30] +70 that's great, but most of us don't even calculate the calories we consume each day. So, we're going to keep it simple today with some common sense tips to get you started. First, let's find out if your dog is overweight.
Is Your Dog Overweight?
Different breeds of dogs can have very unique body shapes, but for most breeds, these two helpful graphics from
Dr. Sophia Yin's website
illustrate what normal and overweight dogs look like. If your dog looks like this first picture, congratulations. You're doing a super job of managing your pup's weight!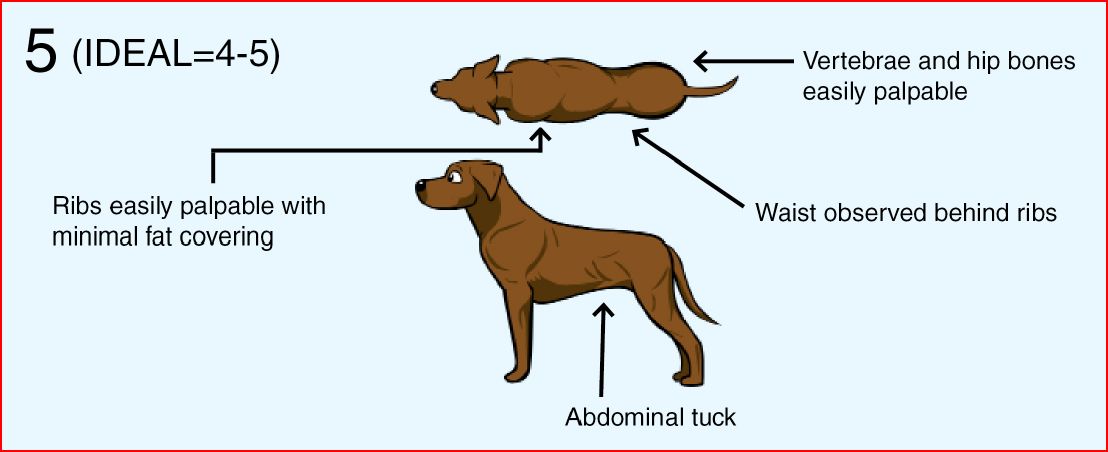 If your dog looks more like the picture below, don't worry. It's never too late to get started on helping her lose some of that excess weight, just check out the tips below.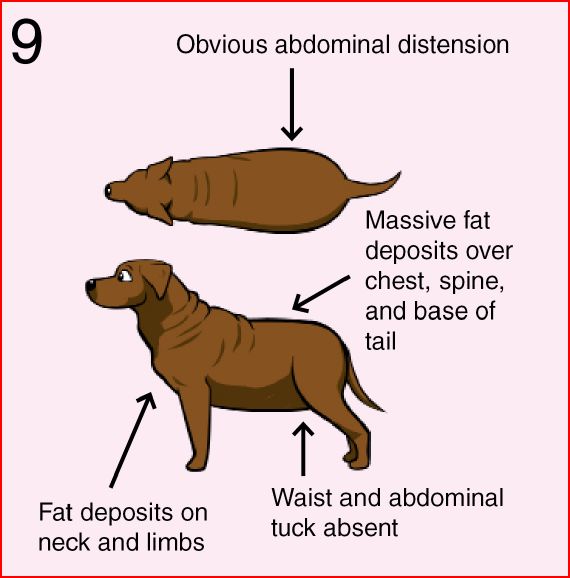 Haley's always been a pretty active girl, but as she got older and slowed down a little bit she began putting on a few extra pounds. Here's what I did (and continue to do) to help her manage her weight.
12 Simple Ways to Help Your Dog Lose Weight
1. Feed a high-quality dog food.
Since we're keeping it simple here, I'm not going to get into the weeds about whether kibble, canned, home-cooked or raw food diets are best, but you should avoid cheap dog food brands that are high in corn or other grains and choose brands that have a high meat content (with no by-products). The
Dog Food Advisor
website is a good resource for checking and comparing different brands of dog food or you can check with your veterinarian for suggestions.
2. Understand feeding recommendations.
Don't assume the feeding instructions on the packaging of your dog's food apply to every dog. If your dog is gaining weight and you're not overfeeding with treats or other food, gradually cut back on the amount of dog food your pup receives each day. Also, as dogs get older and slow down, they tend to gain a few pounds so you may have to cut back slightly on the amount you feed to keep them at a normal weight.
3. Measure your dog's food.
Use a measuring cup to carefully measure each feeding. It's an easy way to know exactly how much food your dog's eating at each meal and to make gradual adjustments as needed.
4. Increase exercise.
Small increases in exercise can make a big difference. Make your daily walk just a bit longer or incorporate more play time into each day. Just like with your dog's diet, you'll want to make gradual changes so you don't overwork your dog, especially if she's very overweight or out of shape.
5. Weigh your dog regularly.
Keep a close eye on your dog's weight loss as you make changes. The goal should be for your pup to lose about 1% of her body weight per week until she reaches her ideal body weight.
6. Give smaller treats.
Have you ever given your dog a large treat or piece of food and they swallowed it instantly? I really don't think dogs notice how big a treat is, they're just happy to get one. Small, low-calorie training treats are perfect for rewards or simply break bigger treats into small pieces. Your dog will be just as satisfied and you'll be feeding her fewer calories each time. Hey, you'll be saving money too!
7. Try some healthier treats.
Many dog treats found in pet stores are high in calories and carbohydrates but you probably have healthier options sitting in your refrigerator right now. Skip the hot dogs, cheese and peanut butter and see if your dog likes fresh fruits or vegetables. Celery, baby carrots, green beans, broccoli, cucumber slices and apple slices are all great options. Just make sure you're familiar with
foods you shouldn't feed your dog
before feeding any human foods and remember that treats should make up no more than 10% of your dog's total calorie intake.
8. Use different rewards.
Using food to motivate or reward a dog works pretty well but we tend to forget that many dogs would be just as happy with a good belly rub or a play session for a reward. Try mixing it up to see if your dog will respond to other things rather than always relying on a food-based reward.
9. Have your dog work for food.
Food dispensing balls
and puzzles are a good way for your dog to burn off excess energy and calories by working for her food or treats. Most dogs learn quickly how the puzzles or balls work and they enjoy the challenge. If your dog isn't into these types of toys, she can still earn treats by playing games like
Find It
or by doing other activities or tricks.
10. Watch for saboteurs.
Make sure all family members are cooperating with your goal to make your pup healthier. If some members of the family are sneaking bites of food to the dog, all those little bites can add up to a lot of calories. Also, make sure your dog's not sabotaging her own diet by sneaking food from other sources, like the cat's food bowl.
11. Avoid dinnertime dilemmas.
If your dog's a beggar, it's hard to resist "
the look
", right? Those pleading eyes that make you think your poor pup will surely starve to death if she doesn't get some of your BBQ chicken. I don't mind a begging dog if they lie down beside you and are mannerly and polite about it, but if it's an issue with your dog, have them settle into their bed or stay in another room until you're finished with dinner. Another dinnertime habit to avoid is giving your dog a lot of leftovers. I remember my grandmother doing that because she didn't want the food to go to waste. I'm all for adding healthy human food to Haley's diet, but I would rather throw away those leftover pizza slices than have them add to her waistline.
12. Manage your dog's hunger.
Your dog might be a little hungry while she's losing weight. If you normally feed once a day, try breaking the meal into two or three feedings throughout the day. You can also set aside a little of your dog's daily food portion to use in a treat dispensing toy for later in the evening.
Canned pumpkin
and green beans are common low-calorie fillers for dieting dogs, but your dog will surely appreciate a variety of veggies. If your dog's looking a little chubby these days, I hope these tips are helpful. I was surprised how much of a difference it made with Haley's attitude and energy level when she lost just a few pounds. Please note that there are some medical reasons your dog could be gaining weight, so it's important to talk to your vet if you have any concerns about your dog's weight or nutritional needs.
While working on this post, I kept wondering why so many of our dogs are overweight. Is it mostly driven by the look they give us? Does the look make us feel guilty for not sharing food? What do you think? Share your thoughts and tips on how you help your dog lose weight.
---