Dogs love playing with other dogs and socializing puppies is essential for raising a well-balanced dog, but sometimes finding other dogs for your dog to interact and play with can be a challenge. For dogs that are overwhelmed by crowded, high-energy dog parks, playdates might be the perfect solution, but how do you find dogs for playdates? It's not like you can just approach that stranger and her dog you see at the pet store and invite them to your house, right? Start by trying one of the methods below (and you'll avoid being seen as a creeper.)
10 Easy Ways to Find Dogs for Playdates
1. Friends and Family
This is the safest place to start, with people and dogs you're already comfortable with. Invite family or friends and their dogs over for a fun get-together or offer to watch their dog for the day so the pups can play together.
2. Dog Classes
Obedience training and puppy preschool type classes both offer the opportunity to meet fellow dog owners that might also be interested in doing more socialization outside of the class. Don't be shy, connect with the other dog owners or ask the instructor to make a formal announcement for you.
3. Co-Workers
You know those co-workers with pictures of their dogs on their desks or the ones that talk constantly about their pooches? Ask them to participate in an after work playdate. Bonus: You'll get to know each other better and you can work as a group with management to seek support for the annual
Take Your Dog to Work Day
or create a dog friendly workspace.
4. Neighbors
Getting to know your neighbors is always a good thing. Start up a short conversation the next time you see someone walking their dog. They might also be interested in getting together for a playdate or scheduling times when you can walk your dogs together.
5. Dog Parks
Maybe you've met someone at the dog park whose dog is also overwhelmed and they would like a more relaxed environment for their dog. Perhaps your dog has made some good friends at the park, but newcomers are too rowdy and the dynamics of the park have changed. Both are opportunities to connect elsewhere for a playdate.
6. Veterinarians
Some vets support dog owners by keeping lists or bulletin board notices of dog owners looking to connect for a variety of reasons. Check with the receptionist on your way out to see if they have any suggestions or recommendations.
7. Dog Trainers
Dog trainers work with clients that are highly motivated to socialize their dogs. Trainers also are well equipped to make suitable recommendations based on the temperament of the dogs they're working with. Talk to a local dog trainer that supports positive reinforcement training for recommendations.
8. Dog Groomers
Groomers may have clients that are looking for playdates and they can also recommend dogs that are easy going and get along well with other dogs.
9. Pet Friendly Activities
Attend some local dog related activities, such as group dog walks and festivals. People love to talk about their dogs, so don't be afraid to ask questions and get to know people.
10. Websites and Apps
Start with
Meetup
for dog groups and activities in your area. If you don't see any groups, start one yourself and create your first event which can be as simple as a walk in the local park. Other useful websites are:
datemypet.com
and
mysocialdog.com
Some helpful apps are:
Dogways
,
Meet My Dog
,
DoggieBnB
,
Sniffr
and
Dogdate
. Websites and apps come and go, so keep checking for new ones to help you network with dog people.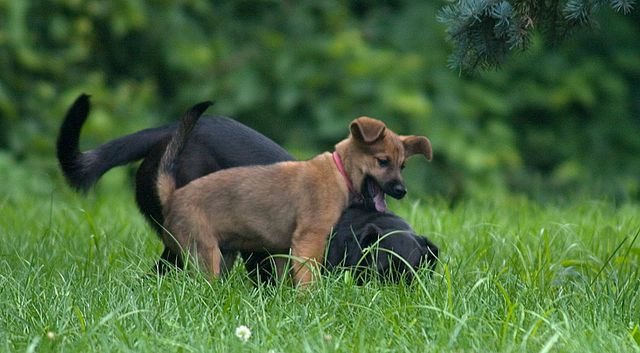 Tips for a Successful Playdate
Talk to your vet about the best way to socialize young puppies that aren't fully vaccinated. Since the ideal age for socializing a puppy ends somewhere around 16 weeks, you'll need to ensure your puppy only socializes with healthy dogs.
Socialize dogs with similar temperaments, energy levels and play styles. Also consider the size of the dogs. Large energetic dogs could injure small dogs or puppies.
Only provide dogs toys if none of the dogs have guarding issues.
Meet for the first time in neutral territory. Choose a safe, fenced-in area that's not too large in size so you can easily get to the dogs if necessary.
Keep the first meeting and interaction calm. Allow the dogs to sniff each other for a moment, then take them for a short walk together before letting them off-leash.
Watch each dog's body language and be prepared to intervene if the dogs become tense. Read 15 Helpful Dog Parks Tips to learn more about what behavior to watch for.
Call each dog away occasionally for short breaks and separate the dogs if things aren't going well. If your dog's not having fun with the other dogs, try again later with a new group of dogs.
Don't force the dogs to interact. Allow them to greet and play on their own terms. Some dogs prefer not to play with other dogs at all, and that's okay.
Always provide lots of water and ensure the dogs have occasional breaks in a shady area if it's hot outside.
Follow your instincts. Don't agree to a playdate if you don't feel completely comfortable with the other dogs. It's okay to say "no".
Playdates should be a positive experience for all of the dogs. If your dog is aggressive or extremely fearful, work with a qualified trainer to help your dog overcome these issues before attempting to set up a playdate.
Playdates can be valuable for a dog's physical and mental well-being. It's an excellent way for them to release excess energy, exercise and learn a few doggie manners from each other as they socialize. If your dog is mostly isolated from other dogs or usually only interacts with family members, think about setting up a playdate soon.
Have you tried doggie playdates? What was your best way to find dogs for playdates?