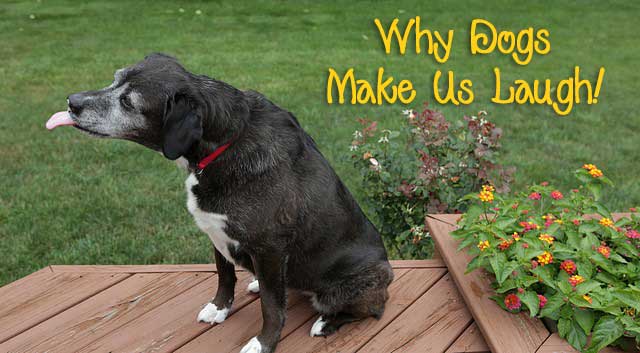 With all their goofy looks and antics, it's no wonder we cherish our dogs as our best friends. Dogs make us laugh when they're unpredictable and silly. They entertain us with their playful nature and creative problem solving skills. But I think one of the biggest reasons dogs make us laugh is their human-like behaviors and expressions. Even though they don't share most of our human emotions, sometimes they seem to act like young children. Maybe that's why we even find it humorous when they're a little mischievous.
Laughter Is the Best Medicine
Today, I'm doing my part in encouraging you to celebrating National Humor Month. I know, another one of those silly holidays or special months you've probably never heard of, right? But this one is truly worth celebrating all year long. Laughter not only increases the level of endorphins which make us feel better, but it can also lower blood pressure, reduce stress and boost our immune systems.
So, if you happen to need a humor boost this month, start by looking through some of your pup pics and share your funniest image with us in the comment section below. I'll get things started with some of Haley's amusing antics.
Why Our Dogs Make Us Laugh
Don't feel bad for laughing at your dog. They might just be laughing at you too. Konrad Lorenz, a Nobel Prize winning ethnologist, believes that dogs do laugh and here's how you can recognize it and maybe even learn to laugh with them. Give it a try!
Tell us why your dog makes you laugh and share your photo with us below. Even though some studies show that dogs make people laugh more than cats, we're not so sure about that. I love them both, so feel free to upload those funny feline pics too!