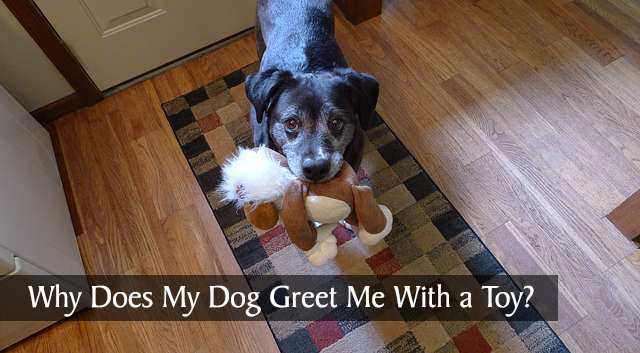 What's the deal with dogs that greet you with a toy when you walk in the door? I don't mean to sound like Jerry Seinfeld here, but I've always wondered why Haley does this. Sometimes she does a little panic routine as she frantically searches for something to put in her mouth. Usually it's a toy laying nearby or an abandoned sock from the previous night's sock ball ritual but she normally tries to find something that she can bring to the door when I arrive home. So, why does my dog greet me with a toy? Here are some of my theories.
Why Does My Dog Greet Me With a Toy?
It's a gift!
Maybe she missed me so much that she wants to celebrate my arrival by presenting me with a gift. How sweet!
Nah, surely she would pick something other than a dirty sock that I wore the day before or a worn-out, gutted duck if it were a gift for me. Plus, she doesn't want to give up the toy right away. If she does give it to me, she usually takes it right back.
She's a retriever mix and that's what retrievers do.
That sounds logical, right? They have soft mouths and were bred to retrieve things.
But that doesn't explain why so many different types of dogs do the same thing. Terriers, herding dogs, all kinds of breeds and mixes exhibit this toy greeting behavior.
She wants to play!
She was so bored while I was away, she can't wait to have some fun with me.
That might be true for some dogs, but Haley's not interested in fetching the toy or playing tug-of-war, she's only interested in greeting me and having a love fest.
She's greeting her alpha dog and showing respect.
I've read that in dog packs, lower ranking dogs will give up valuable items to the alpha to show respect and submissiveness.
No, I don't think so. Haley respects me but I don't believe we have that kind of hierarchy relationship where she views me as some type of alpha figure that she has to submit to.
She's been trained to do it.
The first few times she brought a toy to the door, a fuss was made over her and now she assumes it makes me happy.
Hmm…that sounds like a possibility. I'm always happy to see her and greet her, but I've never made a big deal about the toy. That also doesn't explain why she did it on her own the first few times.
It's a calming behavior for when she's overly excited.
She's so excited that grabbing a toy helps her channel that excitement and calm down.
That's an interesting theory, but she only does this when I come home and not other times when she's overly excited. Sometimes when I come home and she's been napping, she greets me in a quiet low-key manner but still grabs a toy.
It's a way of displaying happiness.
Dogs don't have a lot of options for how they can show various emotions. They can't hug us or clap their paws when we arrive home, so they use their mouths to grab a toy to show happiness.
Could be, but there are other times when Haley's very happy, like when we're headed out for a walk or a car ride, but she doesn't want or need a toy.
It's such a sweet homecoming to be greeted by a happy, wiggling dog holding a toy in her mouth. Even though I still don't know why my dog greets me with a toy, the last two theories make the most sense to me. What do you think? Does your dog do this? I'd love to hear your thoughts and theories!