I was so mad at myself for not safely disposing the bones because I knew dogs should never have cooked bones, especially chicken or turkey bones. Those tiny cooked bones become very brittle and can easily splinter. Dogs can choke on the bones or they can become lodged in their throats or puncture their stomach or digestive tract. Surely, eating an entire turkey breast carcass couldn't be good news for Haley and because it was a holiday our vet's office was closed. After a phone consultation with an emergency vet, here's what they advised.
What To Do If Your Dog Eats Turkey Bones
1. Don't panic
Although there's a potential for the bones to cause a serious problem, dogs have strong stomach acid to help digest the bones and most dogs will pass them without medical assistance.
2. Don't induce vomiting
It's better to let the bones pass through your dog's digestive system, rather than risk a choking hazard or throat injury when they try to expel them by vomiting.
3. Check for choking or throat issues
If your dog is breathing fine and seems to be acting normally, mostly likely all the bones passed through to the stomach without incidence. If your dog's choking, gagging, retching, drinking a lot of water, licking their lips, pacing anxiously or is unable to sit or lie down comfortably, call or visit your vet immediately.
4. Feed your dog soft foods for a few days
Foods such as bread slices or cooked rice can help cushion the bones as they pass through the digestive system and may help them pass easier. We fed Haley bread slices, but check with your vet for recommendations for your dog.
5. Monitor your dog closely
It takes about 72 hours for the bones to digest and pass, so it's important to monitor your dog and their stools during this time period. You may noticed bones in their stool if they didn't digest completely. Call or visit your vet right away if your dog has any of these symptoms: Difficulty passing stool, black or bloody stools, vomiting, loss of appetite, diarrhea, lethargy, abdominal pain, anxiousness or abnormal behavior.
6. Keep your dog calm
Until the bones pass, avoid overly-strenuous exercise, excessive jumping or rough play.
This is what our local emergency vet recommended for Haley, but you know your dog best. As with any medical issue, never hesitate to contact your vet if you're worried or concerned.
Thankfully, Haley didn't have any problems after her Thanksgiving feast. Whew! The bones passed just fine and I think they mostly digested because her stools didn't look dramatically different afterwards. Maybe the wishbone she ate brought us some good luck that year.
Besides properly securing the trash, here are a couple of other tips to keep your pup safe this Thanksgiving. Watch the fatty table scraps which can cause pancreatitis and be sure your dog doesn't eat unbaked bread dough. The yeast in the dough will cause it to swell in their abdomen and the yeast and sugar can combine and cause alcohol poisoning. If you're curious, here are some other foods your dog shouldn't eat.
Haley and I hope you and your pups have a wonderful and safe Thanksgiving!
---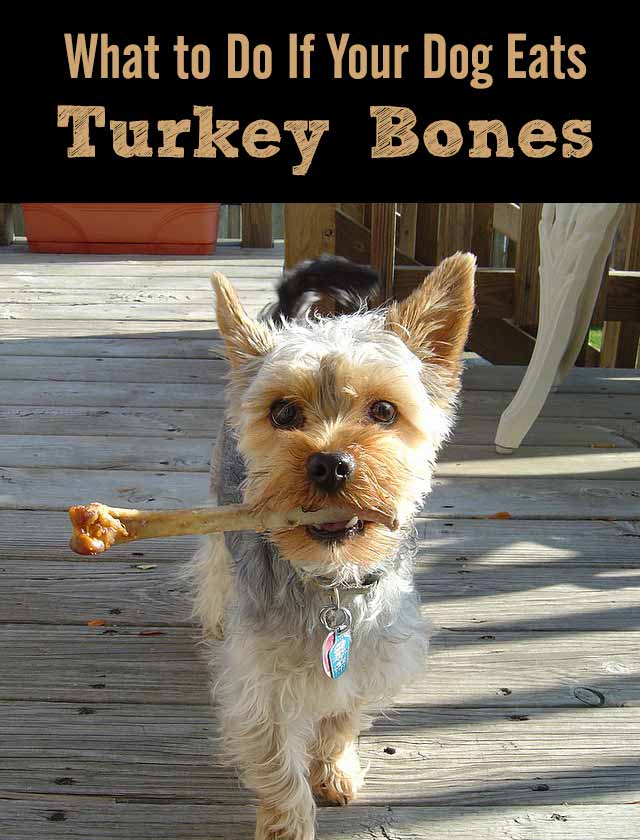 Every Thanksgiving I remember the year Haley ate an entire turkey breast carcass. Yes, she ate the entire thing! That might have been the first time she discovered the joy of dumpster diving in the kitchen trash can. With all the commotion around the holiday, I had forgotten about the bones in the trash can when we left the house for a while. When we returned home, I was shocked to see the overturned trash can but shock soon turned into panic when I discovered one tiny turkey bone left on the floor and I realized Haley had eaten the rest of the carcass.