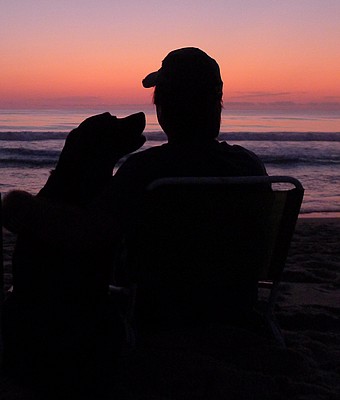 Ironically, the same three characteristics that make for healthy human relationships are vital to creating a positive relationship between you and your dog. Love, trust and respect. Developing these qualities will not only make your life a lot easier, but you'll end up with a happy, well-adjusted dog that loves, trusts and respects you as well.
L
ove
. Loving your dog starts with making sure you're meeting his needs. Provide high quality food and water, comfortable shelter (preferably inside the home with you), adequate veterinary care, proper socialization, exercise and lots of quality time spent with you. It's easy to give our dogs love and affection, but we often unknowingly give that affection at the wrong time, like when our dogs are overly excited. Create a strong bond with your dog by giving praise and affection to reward desirable, positive behavior.
T
rust
. Your dog looks to you for direction and leadership. Trust that your dog wants to learn what's expected of him and communicate that by being fair and consistent in the way that you and all your family members relate to the dog. Don't break your dog's trust by physically bullying or punishing him, being inconsistent with the rules or punishing him after the fact. Lead with fairness, positive energy and a quiet confidence and he will trust you and view you as a calm and competent leader. Assume the role of leader and protector so your dog doesn't feel like he has to. For more information about trust, check out the post
6 Simple Ways to Build Trust With Your Dog
.
R
espect
. Even though we have a lot in common with our canine companions and at times they seem to have human emotions, we have to respect that they deserve to be understood on their level. Since dogs don't have the range of complex human emotions, we shouldn't expect them to relate to us on a human level. Instead, when we view circumstances from their perspective and communicate in the language they understand, we can create a stronger relationship and more easily fix or redirect behavioral issues. Respect that your dog's breed (or mix of breeds) can greatly affect his behavior and you may need to provide him with breed related activities to keep him happy and fulfilled.
Send your comments about how building love, trust and respect play a role or influence the relationship you have with your dog.