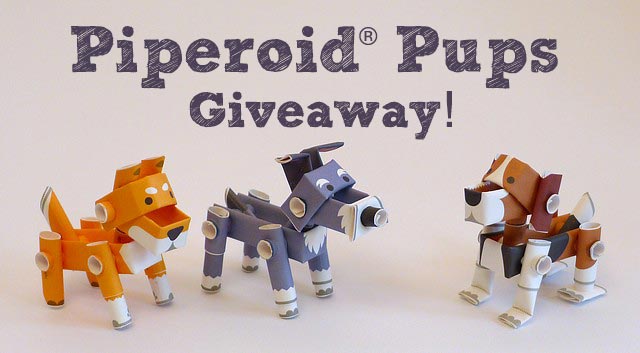 What's a Piperoid, you ask? Why, they are the adorable, Japanese paper dogs you see above. They're fun and easy to assemble. All you need is a pair of scissors and you're ready to get creative transforming the paper tubes into your artsy, posable pup. So, get ready to enter our Piperoid giveaway!
Kids and adults alike enjoy putting these together and they make perfect stocking stuffers or gifts for the holidays. The Piperoid people have also created a collection of cats, as well as other characters including Hello Kitty and Hatsune Miku.
My son and daughter-in-law gave me the beagle as a gift, but I couldn't resist collecting all five of their delightful dogs and I'd love to share the French Bulldog and Miniature Dachshund with two lucky winners in a giveaway this week.
How to Enter the Piperoid Giveaway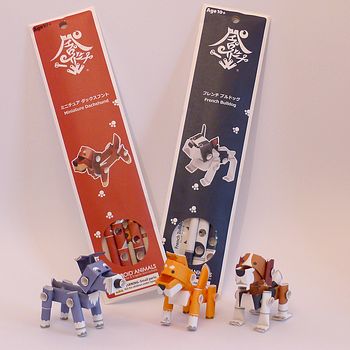 It's easy! To enter the giveaway, just leave a comment below stating which Piperoid you would like to win, the French Bulldog or the Miniature Dachshund. I'll choose two winners at random (one for each dog) next week.
Please Note: The giveaway is only open to people with a mailing address in the Continental United States.
If you don't want to enter the Piperoid giveaway, but would like to order one, you can find them at Magnote.com and Amazon.com
Good luck!?
Update: The Winners! Congrats to Lindsay from ThatMutt for winning the French Bulldog and Jean from Welcome to the Menagerie for giving the Doxie a good home. I wish I had one for each person that entered but if you didn't win, watch for Haley's Holiday Gift Giveaway coming up next month!