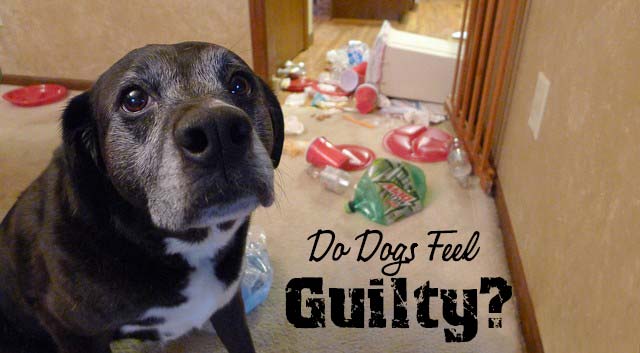 Every time I see one of those dog shaming images with a guilty looking pup displaying their confession written on a sign hung around their neck, I wonder if any of those dogs really feel ashamed. Even though they may look or act remorseful, do dogs feel guilty?
What Do Researchers Say?
Most of the research on this subject suggests that dogs aren't capable of having complex emotions like jealousy or guilt. It's believed that when dogs act guilty, they're usually responding to being scolded after they've done something wrong. Okay, I can easily accept that theory because I know how most dogs react when you raise your voice or use a stern tone with them, whether they've done something wrong or not. It's also a common belief that dogs mostly live in the moment and don't understand why they're getting reprimanded for something, unless they're caught in the act of the transgression.
…But Then There's This Scenario
When I come home and Haley's not standing at the door, ready to greet me with her wagging tail, I know something's up! This happens on the rare occasions when I forget to move the kitchen trash can before leaving the house and Haley decides to have a field day redecorating the kitchen floor while rummaging through the can for tasty tidbits. I will find her lying in her bed with a guilty look on her face. You know the look: head lowered, ears back, pleading eyes and in Haley's case, an ever so optimistic slowly wagging tail.
I have to admit, I have mildly scolded Haley a few times in the past for getting into the trash, but I haven't done that for years because I realize now that it's my fault for forgetting to move the trash can before leaving home. So, if she doesn't feel guilt, as most researchers believe, why doesn't she greet me at the door? If dogs live in the moment, wouldn't she forget about her little party in the kitchen by the time I get home? She must know or feel that she's done something wrong, because she won't even look in the general direction of the trash can after I come home.
Here's what I really wonder about. What's she thinking or feeling during the time between her dirty deed and when I arrive back home? Does she look at the mess and think that sometimes I get upset when there's trash on the floor? Does she lie on her bed for hours feeling bad about what she's done or dreading the moment when I return home? I sure hope not! The fact that she doesn't come to greet me means she's feeling something and hasn't forgotten what she's done.
Luckily, I don't often forget to move the trash can when leaving the house and thankfully, Haley's never eaten anything that made her sick but I'm glad that dogs don't have opposable thumbs and the ability to create their own shaming signs and internet memes of us!
Despite the widely accepted theory that dogs don't feel guilt, these two articles by Live Science and Scientific American suggest the verdict may still be out on whether dogs experience guilt or other complex emotions.
---
What do you think? Do dogs feel guilty when they've done something wrong?