---
---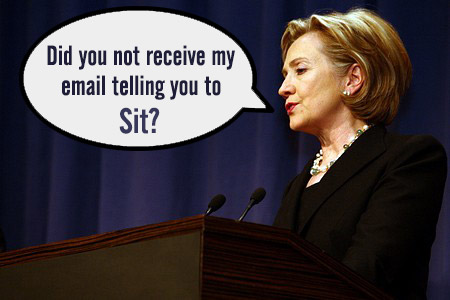 ---
---
Even though this is a humorous way to illustrate the different tones people can have, studies show that our dogs prefer and respond better to specific tones of voice. They hear the words we speak, but tone, intonation, volume and the emotion behind the words are equally important. It's not just what you say but how you say it. I can use the same word with Haley to mean two different things and she understands the difference from my tone of voice. For example, a high-pitched, upbeat "Hey!" means that something exciting is about to happen, whereas a low-pitched, stern "Hey!" means stop what you're doing.
You might be wondering if tone of voice is really that important when it comes to communicating with your dog. The answer is YES! If you're having trouble training your pup or getting his attention, the problem might just be your tone of voice. Check out these tips to see if you're on the right vocal track.
Tips for Using the Right Tone of Voice With Your Dog
Dogs respond with excitement when we use an enthusiastic, high-pitched voice. This tone is perfect for initiating play or when giving commands that are active, such as training the Come command.
When training commands that are passive and require some restraint, such as the Sit, Stay or Down commands, use a low-pitched tone that's authoritative but not harsh.
When praising a dog, find a balance between the high-pitched tone that produces excitement and the low-pitched voice used for giving commands. It should be both upbeat and soothing and should appeal to your dog.
Verbal corrections require a lower pitch and sharper tone that lets your dog know that you're serious.
When giving your dog affection, he'll appreciate a quiet, soft voice that relays reassurance.
Volume is also important. A very soft-spoken person may have trouble getting or keeping their dog's attention but there's no need to raise your voice to a high volume or yell at your dog. Once your dog is well trained, try whispering a command to him and you might be surprised how well he tunes in and pays attention.
It can be hard for us humans to pay attention to someone with a monotonous voice and dogs have the same problem. Be sure to vary your tone and show some emotion with your voice.
If your dog's not listening to you, repeating the same command over and over again isn't going to help. Work on getting your dog's attention first then practice training by using clear, concise commands in the right tone of voice.
Both women and men can have challenges with pitch and volume. Men sometimes forget to use a high-pitched tone when giving praise or trying to invoke excitement and women often forget to lower their pitch when issuing commands or corrections.
Tone is important for politicians, but it's even more important when communicating with our pups. They rely on our tone of voice just as much as our words when trying to understand us. Using the correct tone, intonation and volume can make a huge difference in how well we communicate with them. If you're interested in learning more, check out this article by Anything Pawsome that highlights a study done by Sussex University on this topic. It's really fascinating.
Share your thoughts or give us your vote on which presidential candidate you think would be the best at dog training and why. Haley's thinking pretty seriously about her answer but you don't have to. It's just for fun so make us laugh!
---
With all of the political talk about "tone" lately, I started thinking about how our tone of voice affects dogs and the various commands and messages we try to relay to them. I had to laugh when imagining how the current Republican and Democrat frontrunners would do if they attempted to teach a dog to sit. It might go something like this.