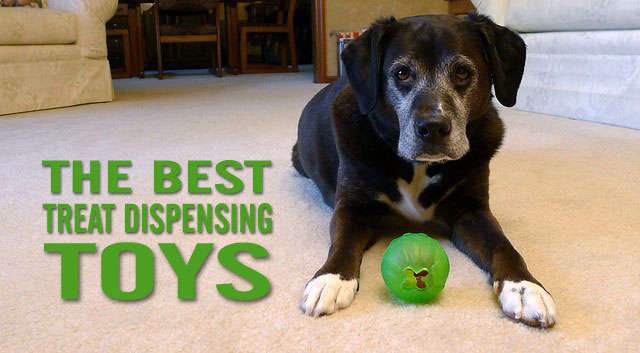 Note: This is NOT a paid or compensated review, but a review of two products that I purchased for my own use. I enjoy sharing information about products you may like or find useful and you'll always receive my honest and unbiased opinion.
When do we use treat dispensing toys? Uh, pretty much every day! If you haven't tried any of these yet, let me explain how useful they are. You fill the toy with a few treats or kibble and your pup goes to work figuring out how to get the treats out. But there's a lot more to these toys than just doling out food or treats, check out the other benefits below then read Haley's recommendations for the best treat dispensing toys.
10 Benefits of Using Treat Dispensing Toys
1. They're fun!
Dogs enjoy the challenge and reward of working for food. I often start off by hiding the filled treat ball to combine it with a game of
Find It
.
2. Mental stimulation
Dogs love to learn new things and treat dispensing toys and puzzles can provide mental stimulation while your pup figures out the toy.
3. Getting back to nature
They connect your dog to their natural instinct of hunting and foraging for food.
4. Burn calories
What's better than your dog burning a few calories while having fun and working for those treats?
5. Reduce excess energy
Treat dispensing toys are perfect for dogs that have energy to burn, especially in the wintertime or on rainy days when your dog might not get outside as much.
6. Exercise
Most of these toys will get your pup moving and provide some additional activity beyond their normal walk or exercise routine.
7. Manage separation anxiety
Give your dog a filled toy as you leave the house so they have something to focus on.
8. Weight loss
You can help a kibble-fed dog lose weight by putting all or part of their meal in a food dispensing toy.
9. Manage destructive or boredom-related behaviors
Many destructive behaviors like digging, chewing or barking are the result of boredom. Treat balls and toys can give your dog something else to do.
10. Prevent indigestion
They're perfect for feeding dogs that wolf their food down too fast.
Those are some pretty good benefits, right? Haley's tested a lot of these toys but two of them are at the top of her list as the best treat dispensing toys. Here they are!
Toys "R" Us® Ball Treat Dispenser Dog Toy
Haley's first pick is the Toys "R" Us® Ball Treat Dispenser Dog Toy which is also sold as the Omega Paw Tricky Treat Ball.
This ball is good for getting your dog active and moving. Just drop some treats or kibble into the hole in the ball and your pup will roll it around or pick it up and drop it until the treats come out. The ball has a lip around the hole to prevent the food from coming out to easily, so it makes your dog work a little longer to remove all the treats. The ball is made from a somewhat soft vinyl with molded craters on the outside, so it's easy for your pup to pick it up and it's easy on wood floors if it's dropped. The ball comes in different sizes and can hold a large quantity of food or treats.
A couple of notes about this ball, you'll want to stick with using hard treats or food since there's no easy way to clean the inside of the ball and it's not made for aggressive chewers.
Starmark Chew Ball Treat Dispenser Dog Toy
Haley's second pick is the Starmark Chew Ball Treat Dispenser Dog Toy and I have to say it's probably her favorite because it's so versatile. It not only dispenses treats but it's also a bouncy ball and it floats.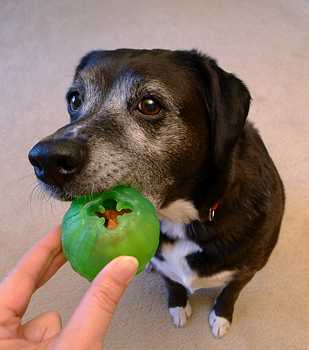 As a treat dispenser, it can be rolled along the floor but Haley normally settles down and chews on it instead. The ball is soft and pliable yet it holds up amazingly well to strong chewing. You push the treats through the tabs on either side of the ball then your pup will work on getting them out. You can use a variety of treats with this ball and you can also trim the tabs with scissors if you want to create a bigger opening. The ball comes in different sizes and it's pretty easy to clean the inside with your finger since it's pliable.
There's only negative point about this toy, it doesn't always work well with large, crunchy treats. If your dog chews on the ball like Haley does, the treats get crunched up into crumbs and fall out of the holes. The ball is very durable but aggressive chewers might do better with a Starmark Pickle Pocket or one of the Kong Extreme toys.
These are the best treat dispensing toys we've tried and both are available at PetSmart and other retailers. I like that each has a slightly different purpose. The video below shows how one is best for actively being pushed around and the other is better for settling down and focusing. Both are great boredom busters for Haley and she has more fun working for her treats rather than having them handed to her freely.
Different dogs like different types of toys and there's no shortage of options when it comes to treat dispensing toys and puzzles. Shop around and find a few that your dog might like or you can make your own by using items from around the house, like water bottles or cardboard boxes.
Have you tried these or any other food dispensing toys? What are your dog's favorite picks?