Thank you to all who entered the giveaway and congratulations to Shanna, the winner of Mary's signed copy of Grow Young With Your Dog!
---
Do we have to accept that as we get older we're going to
feel
old and tired? Mary Debono challenges that way of thinking, both for people and their pets, in her book
Grow Young with Your Dog
. Now that Haley's a senior dog and I'm—well, not exactly a spring chicken anymore, the idea of staying fit and healthy along with Haley really appeals to me. I want to enjoy our hikes together for years to come and you probably feel the same way about spending quality time with your pup too.
Mary contacted me recently to ask if I would be interested in reading and reviewing her book. I was thrilled that she asked because I was already a big fan of her book and had intended on writing an article about it. Since I already purchased the book on my own, we decided to give a copy to one of you!
A Little About Mary First
Mary Debono
is a lifelong animal lover with over 20 years experience in helping thousands of animals overcome physical and psychological challenges. She's a
Certified Feldenkrais® Practitioner
who has combined that knowledge with animal bio-mechanics, behavior and training knowledge to create her own technique known as
Debono Moves
. She's worked successfully with dogs, cats and horses at her practice in Encinitas, CA and has traveled around the world teaching her techniques in workshops. She shares that knowledge with us in her book and her passion for helping animals and people can be felt on every page.
What Does It Mean to Grow Young With Your Dog?
Mary explains in her book that we don't necessarily have to accept that we're going to feel worse or have less energy as we get older and that our thoughts and perception of aging can limit our movements. She connects and communicates with animals through gentle hand contact and movements which can lower anxiety, ease arthritis, heal injuries and even regain movement after paralysis.
Debono Moves
utilizes neuroplasticity, which is the brain's ability to form or reorganize new neural pathways in response to injury or disease when other pathways have been forgotten or turned off. Through these movements and exercises, both you and your dog can regain a more youthful state together by using the power of touch and connection.
How Debono Moves Helped Haley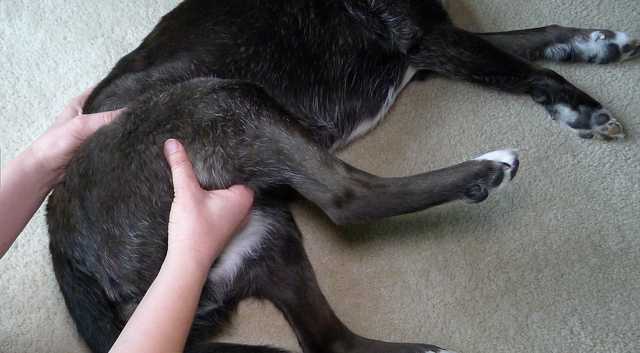 Mary's book has specific chapters devoted to helping dogs with back problems, neck problems, hip dysplasia and of course, the all too common knee injuries. After
Haley's CCL knee surgery
last year, I relied on some of Mary's theories and techniques. Right after her surgery, Haley came down with a severe case of colitis which went undetected until a fever presented itself. She was in such pain for several days that she held her injured knee high and tight to her belly and refused to lower it at all. Once she was feeling better from the colitis, holding her knee up had become a new habit and she was behind schedule in her rehab progress.
Limping around on three legs and constantly pivoting on her good foot was putting a lot of extra stress on her good knee. In order to get her to lower her leg and begin the process of walking on it again, I used gentle touch and pressure on her upper thigh while she stood on three legs. The light but constant pressure helped her relax her leg a little at a time. After several sessions, she finally brushed her toenails on the carpet, then gradually put more and more weight on her leg. Then, I followed up with Mary's technique (page 88) where I supported Haley while slowly and carefully shifting her weight to all four legs in a circle. The exercises taught her to relax and trust that she could put weight on her leg again. I was so relieved to get her back on track with her rehab. Whew!
The Many Benefits of Debono Moves
If you have an older dog,
Chapter 7—Enhancing the Life of the Older Dog
, offers practical tips and exercises to help keep your dog moving more freely. But Mary's book is not just about helping older or injured dogs. It's about helping all dogs feel younger and more energetic. Active or athletic dogs can benefit from these exercises too and may see a reduced risk of injury and enhanced athletic ability. If you happen to have a reactive or anxious dog,
Debono Moves
exercises can help reduce stress and enhance your pup's overall well-being. Chapter 8 is devoted to exercises just for you, but there are also human exercises incorporated into many of the techniques you do with your dog. One of the most valuable benefits of using Mary's techniques, is the strong bond it creates between you and your dog. And, while you're helping your dog, you're reaping the benefits of touch and relaxation too.
The Wrap Up
Grow Young with Your Dog
offers practical, easy to understand techniques and exercises that you can use right away to improve the health and well-being of you and your dog. Mary highlights several cases where she's helped dogs and provides explanations and the techniques she used to get a positive outcome for each dog. The book is well organized so you can quickly jump to the section you need. Each chapter highlights a specific area or problem being treated and includes exercises and key points to review at the end of the chapter. There are plenty of pictures to help illustrate Mary's techniques.
One of my favorite topics covered!
In Chapter 2—Getting to Know Your Dog in a New Way, Mary shows you how to use your hands to feel and learn about your dog's anatomy. This method of listening with your hands can help you spot potential trouble areas in movement.
Although Mary's book is ideal for anyone with a senior dog or a dog that's dealing with a condition that affects their movement, I would recommend it to any dog owner because of the many benefits you and your dog can enjoy by practicing Debono Moves. As a bonus, the book also includes access to additional audio and video files via Mary's website.
The Giveaway!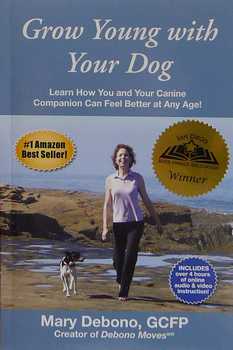 To be entered to win a signed copy of
Grow Young with Your Dog
, leave a comment below and explain how you think
Debono Moves
would benefit your dog. I'll choose a winner at random on February 14th, 2017. That's a perfect Valentines Day gift for you and your pooch! The winner will be contacted via their email address.
Please note:
Due to the nature of this giveaway, it's only open to people with a mailing address in the Continental United States.
Thank you, Mary, for providing a copy of your book for one lucky reader. Good luck to all of you! If you don't want to enter the giveaway but would like a copy of the book, simply head over to Mary's website then click on the book to order a copy! Are you ready to grow young with your dog?