Have you ever heard someone say their dog has a strong prey drive and wondered what they meant? After reading a lot about dog drive types, I understand why some dog trainers and behaviorists rely on them to motivate their client's dogs. But just how useful are they? Can they really help you better understand and train your dog? First, let me explain what drive types are.
There are three basic canine drive types that make up a dog's personality, character or temperament, so to speak. Although some theories further break down the three types, they are the motivators that cause a dog to respond instinctively in different situations.
Dogs inherit all three drive types and act on them at different times, but one or two drives may be stronger or more dominant, depending on the dog and breed. Here's a breakdown of the three drive types.
The 3 Basic Dog Drive Types
1. Prey Drive
This drive is associated with tracking, stalking or hunting prey and also the killing and eating of prey. Along with using their sense of smell, vision and hearing, chasing moving objects is a big trigger for dogs with high prey drives. Some other behaviors related to prey drive are: pouncing, jumping, shaking, tearing or ripping things apart, digging, burying objects, stealing food, enjoying chasing games (and tug-of-war) and high-pitched barking.
2. Pack Drive
Dogs with a strong pack drive are very social and enjoy interacting with humans and other dogs. They like playing, being petted and being groomed. They're typically easier to train because they enjoy working with people and they easily interpret our body language and cues. They're good at following the rules and they also follow you around the house. The pack drive is also related to mating and reproductive behaviors.
3. Defense Drive
The defense drive is all about survival. It's broken down into two self-preservation types, fight and flight.
Fight Drive – This drive is observed in dogs that some people might call dominant, but most of these characteristics show up after a dog reaches sexual maturity. Dogs with a high fight drive are confident, standing erect and often staring down people and other dogs. They may guard their food, toys, family or territory. They enjoy challenging games such as tug-of-war more than being petted or groomed. A dog with raised hackles from the shoulders and up the neck are displaying this type of drive.

---

Flight Drive – The flight drive is seen in dogs that are often characterized as submissive or fearful and it's a common trait seen in younger dogs. They display a lack of confidence with their body language and actions. Dogs with high flight drives may freeze, cower, rollover to expose their belly, run away, tuck their tail between their legs or even urinate when stressed or when greeting strangers or new dogs. A dog in flight drive may also have raised hackles, but from the shoulder area going back towards the tail. It's interesting that many dog bite injuries come from fearful or insecure dogs with high flight drives.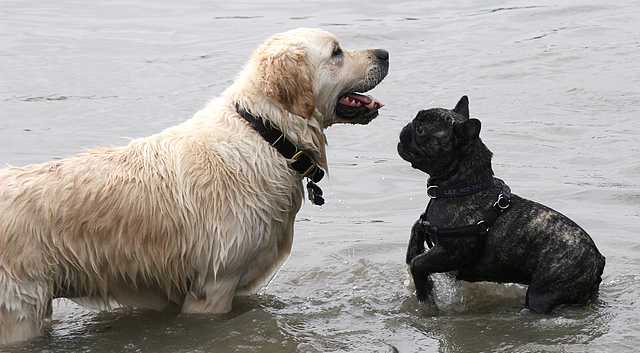 Are Drive Types Really That Useful?
Some trainers and behaviorists base their training methods on drive types and they tailor the training to the particular drive of a dog. That makes sense. After all, if you understand what motivates a dog, it's easier to work with their nature or personality. Trainers will also attempt to decrease a particular drive that might be counterproductive in certain types of training or situations.
Others argue that the theory of drive types is outdated and understanding dog behavior is much more complicated than breaking down their personality or instinctual tendencies into a few simple groups. That also makes sense. Most dogs display strength in all three of these drives depending on the circumstances. Dog behavior can also evolve over time and can change depending on the environment, as well as the people and dogs they spend time with.
What's Your Dog's Drive Type?
You can probably guess your dog's drive type from the descriptions above, but if you need a little help, try taking this
Canine Psychometric Test
from K9 Magazine. I took the test and it confirmed my thoughts about Haley. She has a strong pack drive, medium-high prey drive and low flight defense drive. When she was younger though, she had a much higher flight defense drive.
I think it's interesting to learn about dog drive types and they help explain a lot about dog behavior, but I do feel they're probably overly simplistic and outdated. If there's one thing I've learned from my fellow bloggers, it's the fact that every dog is different and you can't train or explain dog behavior with a single theory or method. What do you think? Leave a comment below!