I admit it. I shamelessly copied Bryn Anderson and her dog Nixe's incredible Halloween costume idea. And since Haley already has the triangular shapes around her eyes from her naturally graying face, it just seems like it was meant to be. She's going to be a skeleton dog for Halloween this year! But don't let my lack of creatively stop you. Design your own canine creation for Halloween (or any occasion) with this dog safe paint from Dollipop Cosmetics on Etsy.
The paint is a non-toxic mineral powder that you mix with water, coconut oil or pet-safe gel. Just mix it up and paint any design on your dog's fur. It's perfect for pups that don't like wearing traditional Halloween costumes. I mixed the white mineral color with a gel, then used a large paint brush to spread on the color. Haley's not quite as patient as Nixe with the whole process, so my design was anatomically and artistically flawed, but the gel dried nicely and the color stayed in place well. The mineral paint comes in different colors and you can also request a custom order made specifically for your pet.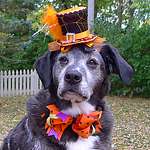 Thanks again to Bryn and Dollipop Cosmetics for creative inspiration and dog safe paint products and be sure to check out these 10 Halloween tips for your pup.
Do you plan on dressing up your pet this Halloween? Leave a comment and tell us about it!
---