If you're thinking about adopting a dog when you have a cat, do you visualize one of those cute photos of a dog and cat lovingly curled up in the same bed or does the expression "fighting like cats and dogs" come to mind and make you a little apprehensive? Yep, it could go either way but if your cat is already familiar and comfortable with dogs, you've got half of the battle won and if you're adopting a dog that was raised around cats, that's even better. There's no guarantee that a new dog will get along with your cat but these tips should help improve the odds.
Selecting the Perfect Dog for Your Cat
Puppies and kittens are a good combination.
If both pets are young, they adjust and accept each other quickly and can form positive impressions about one another, but read on if you have an adult cat.
Puppies and older cats can be a challenge.
Exuberant puppies can sometimes be a handful, even for us humans. Adult or older cats often find a young pup's antics annoying and stressful.
Inquire about the dog's history with cats.
Shelters may not have any history on some dogs, but many perform temperament testing on each dog before offering it for adoption. Ask if the dog has been tested around cats. If you're permitted to take the dog for a walk, stroll through a local park or neighborhood with small animals such as cats, squirrels or birds. A dog that shows aggression, barks excessively or pulls hard towards small animals may not be a good adoption candidate for your cat.
Expect your dog to be accommodating.
Since dogs can more easily injure a cat and are also more easily trained, expect your new dog to make the most effort in creating a peaceful coexistence with the cat. A dog that already knows some basic commands such as
Come
or
Leave It
will make the transition easier.
Avoid dogs with high prey drives.
Even though the dog is expected to adjust more than the cat, it's unfair to put a dog with intense stalking and chasing instincts in a household with a cat. The chance for a harmonious relationship between the two is slim. Keep in mind that terriers and sighthounds were bred to chase vermin or prey and herding dogs may enjoy herding your cat. Check out this post on
Dog Drive Types
to learn more.
Perform a trial run.
Make sure the shelter allows you to have a trial run with the dog in your home so you can ensure the pup and your cat are compatible and comfortable with each other.
Have realistic expectations.
You may want your cat and dog to be best friends and maybe even play together, but if both are calm, content and living together peacefully, consider the relationship a success!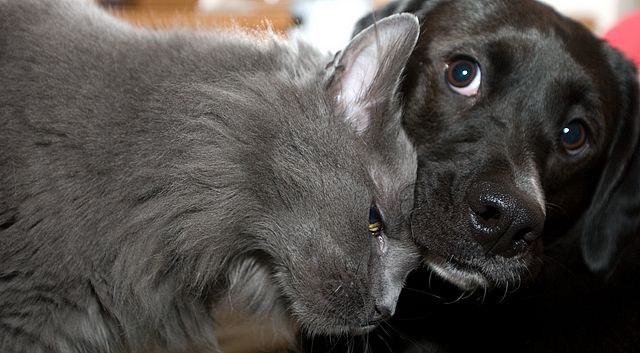 When you're ready for the big day, take your time and stay calm as your proceed through the steps below to introduce your cat to her new housemate. Some cats take quite awhile to adjust to a dog in the home and you'll want to be watchful that your cat continues to eat, drink and use the litter box normally.

Steps to Introduce Your New Dog to Your Cat
A few weeks before adopting your dog, create a safe zone inside your home for your cat to use while adjusting to the new dog. Make it only accessible to the cat so she has a place to hide and relax if she feels overwhelmed. The previous owners of our home created this cat portal which leads to the utility room where we kept our cat's food, water and litter box. Baby gates with integrated cat doors are also ideal for blocking off areas from larger dogs.
Place your cat's food, water, litter box and a comfy bed in the safe zone.
Trim your cat's nails in case she decides to take a swipe at the dog.
First introduce your dog and cat by scent only by putting the cat behind a closed door and allowing them both to sniff each other under the door. If your dog is overly excited or intense, call him away and have him sit or lay down, then give him a treat and some praise. The goal is to have them both associate good things with the smell of each other, so push some tasty treats under the door for your cat too.
When your dog can be calm around the door, allow them to see and smell each other but be physically separated. A baby gate is perfect for this step or you could put the dog in a crate. Again, redirect the dog if he's too excited or fixated on the cat, then give them both praise and treats. This is a great time to start training the Leave It command if your dog doesn't already know it.
When both pets are calm and comfortable with seeing each other up close, allow them to explore the same space while keeping the dog on a leash. Never restrain your cat, allow her to explore freely and hide if she chooses. Once again, redirect your dog if he tries to chase or intimidate the cat, then praise and treat. If this step is challenging, try taking your dog for a long walk first or give him a frozen, stuffed Kong to work on and occupy his attention.
Once the dog and cat are both comfortable around each other, they can be allowed to roam freely around the house while you're at home. Many people with dogs and cats isolate their pets when they leave the house unless they're extremely comfortable with how well they get along together.
A cat may occasionally hiss or take a swipe at an annoying dog and a dog may occasionally chase a cat that's teasing or provoking it, but they usually learn quickly from each other about what's tolerated. If things aren't going well between your dog and cat, contact a professional trainer to give you a hand.
Haley gets along pretty well with cats, but she does have a little prey drive and likes to chase them occasionally, especially when they come into her yard. We try to avoid them when walking so she doesn't get too excited, but on a walk last summer, a cat went out of its way to cross the street and approach Haley with a look and stride that appeared to be confrontational. Watched what happened next…

Haley was rather surprised to be confronted in this way by a cat, ambushed by love!
Do you have both dogs and cats in your house? Share your tips for adopting a dog when you have a cat!
Update! I just noticed Lindsay from That Mutt posted a great article today on How to Keep the Dog out of the Cat's Litter Box. She's got some great tips if you're having this problem with your dog.