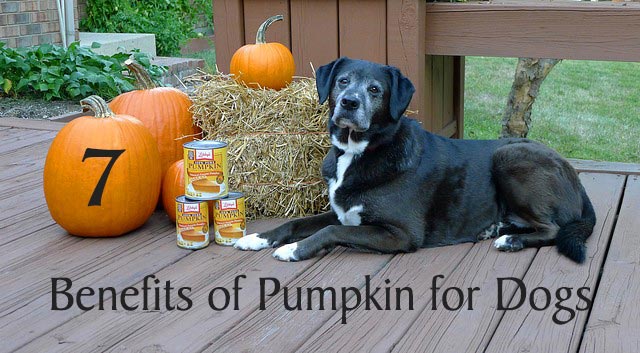 Yay! The official start of the fall season is less than a week away and I'm ready to celebrate its arrival! The temperatures are slowly dropping, all the kids are back in school and I saw the first pumpkins for sale last week. I know it's a little early, but I just had to buy a few. It's almost time to make those pumpkin pies and seeing all the fall decorations reminded me to stock up on a couple of extra cans of pumpkin puree for Haley too. If you haven't heard of the benefits of pumpkin for dogs, you'll want to check these out!
7 Benefits of Pumpkin for Dogs
1. Pumpkin is great for helping to relieve digestive issues in dogs.
A lot of dog owners already know that pumpkin can help remedy diarrhea, but it's also good for relieving constipation in dogs. Dogs that have IBS or require a bland diet may benefit from adding pumpkin to their food on a regular basis. Dr. Karen Becker explains more about how pumpkin is
The Perfect Bowel-Soothing Food for GI Upsets and Diarrhea
.
2. Pumpkins are full of healthy goodness.
Pumpkins contain a lot of fiber while being low in calories, fat and cholesterol. You can tell by their orange color they contain a good amount of beta-carotene along with magnesium, potassium, iron, zinc, and vitamins A and C. That's a lot of goodness wrapped in a festive, fall fruit. Yeah, it seems like it would be a squash, but it's really a fruit.
3. Pumpkin seeds pack a healthy punch.
Pumpkin seeds contain plant-based, omega-3 fatty acids and antioxidants along with other beneficial nutrients such as magnesium, manganese, copper and zinc. Animal studies have shown promising results linking the properties of pumpkin seeds to improved insulin regulation and urinary health (prevention of kidney stones) and in reducing inflammation.
4. Pumpkin can help manage your dog's weight.
Pumpkin can add bulk and fiber to your pup's diet without adding a lot of extra calories. The extra fiber means your dog will feel fuller while eating less calories, all while getting the additional health benefits pumpkin has to offer.
5. Canned pumpkin is convenient.
You can make your own cooked pumpkin puree but canned puree is convenient and available year round. It's an easy way to add lots of healthy nutrients to your dog's diet.
6. Most dogs love the taste of pumpkin.
What's the point of buying healthy food if your dog doesn't like it, right? The fact that most dogs love pumpkin, is another reason why it's a super food for dogs, especially if your pup's upset stomach makes them picky about eating certain foods. Pumpkin is also unlikely to cause an allergic reaction in dogs that suffer from food allergies.
7. Pumpkin may have additional health benefits.
Besides the health benefits already mentioned, pumpkin may also improve skin conditions and produce a shinier coat. Researchers are also studying whether the amino acid, cucurbitin, found in pumpkin and pumpkin seeds may be a natural dewormer for tapeworm and other intestinal parasites.
Bonus:
Pumpkin is also good for cats! From aiding in digestive issues to preventing hairballs.
How Much Pumpkin Should I Feed My Dog?
It only takes a small amount of pumpkin each day to treat diarrhea or constipation problems in dogs and you need to be careful not to feed too much pumpkin because it is high in fiber. Normally the recommended amount is somewhere between a few teaspoons per day for small dogs to a few tablespoons or more for larger dogs. It's important to check with your vet first to get the recommended amount for the weight of your dog and to follow up with an appointment if digestive problems persist. If you're thinking about adding pumpkin to your dog's diet on a regular basis, discuss this with your vet as well and remember to slowly increase the amount of pumpkin so your pup has time to adjust to the increased amount of fiber.
Tips for Feeding Your Dog Pumpkin
Make sure you buy the plain pumpkin puree and not the pumpkin pie mix which has sugar and spices added to it.
Since canned pumpkin only lasts for about a week in the refrigerator, here's a great way to avoid throwing away any unused pumpkin. Simply freeze the extra pumpkin in ice cube trays and defrost them when needed.


Never feed your dog carved Halloween pumpkins that have been sitting around because they're likely full of mold and bacteria.
Try making some dog treats with pumpkin, like the recipe below from the Maryland SPCA.
Always keep a spare can of pumpkin puree on hand in case your dog gets an upset stomach, diarrhea or constipation.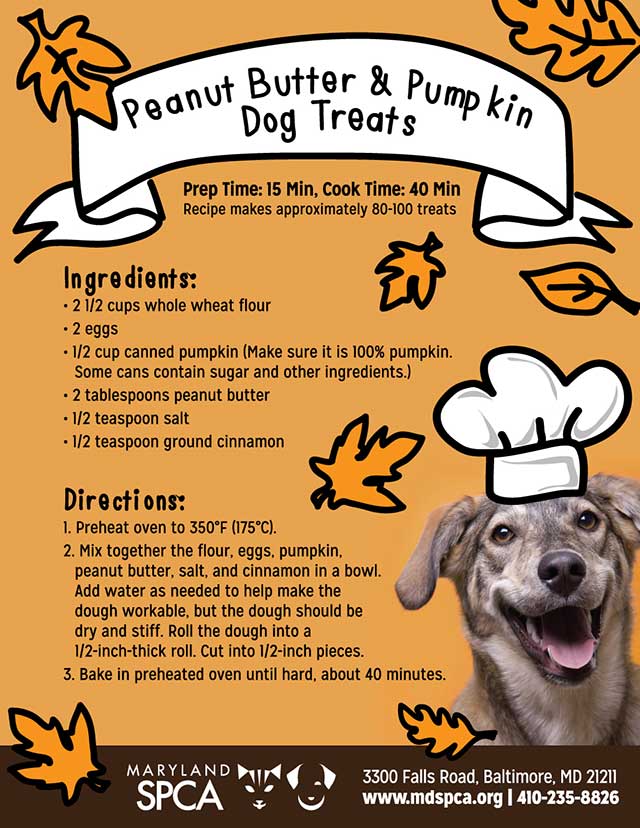 Do you add pumpkin to your dog's diet? Have you ever used it to cure an upset stomach? Share your experience or tips on how you use pumpkin for dogs!