It's fairly common to hear dog owners complain that their pup listens at home but not when they're away from home or they might claim that their dog is stubborn, strong-willed or just plain dumb because he doesn't always listen or follow commands. They say their dog has selective hearing.
Can you relate to any of these scenarios?
When the doorbell rings, you tell your dog to sit and stay but as soon as you open the door, he rushes to greet your guest and it's hard to get him under control.
You're enjoying a pleasant stroll with your dog walking politely on the leash until he spots another dog owner walking their dog. The closer the other dog gets, the more your pup pulls on the leash or whines, straining to meet the other dog.
When taking your dog along to visit a friend or relative, you ask him to sit and stay calmly by your side. He listens for a moment but his excitement gets the best of him and he soon breaks the command.
Yep, just when you're feeling proud and confident with your dog's training or obedience skills, one of these things happens and you feel like you have an out-of-control dog that won't listen at all. It can be both embarrassing and frustrating. With Haley being a somewhat excitable dog, I can relate to all three of these scenarios, and maybe a few more.
You may think your dog has selective hearing but here's what's really happening. You've probably done a great job of training your pup when you're at home and your dog listens well in most cases but then you stopped instead of moving on to the next phase which is training for the three D's: distance, duration and distractions.
Once your dog listens and follows commands well at home in a calm and quiet environment, most of us ease up on the training and assume most of the work is done. But dogs also need to be trained for those same commands when you're not standing right beside them or when there's something interesting competing for their attention. If you make the effort to work on the three D's, you'll have a fully trained dog that will listen well in all types of circumstances and environments and that makes life with your dog a heck of a lot easier. Here's how you can work on the three D's of dog training.
Distance
Slowly work to increase the physical distance between you and your dog when giving a command. Here are some examples:
Practice asking your dog to sit when you're not standing right next to him.
Slowly increase the distance you move away from your dog after putting him in a stay position.
Work on recall by gradually increasing the distance before calling your dog to come to you.
Duration
Gradually increase how long your dog should stay in a command or position. Try these exercises:
Slowly increase the length of time your dog should remain in position after you give the stay command.
Gradually increase the time between saying your dog's name to get his attention and issuing a command.
Practice having your dog remain in a down position for longer periods of time.
Distractions
Work with your dog around low-level distractions, then slowly increase the level of distractions as your pup learns to listen and follow commands even though something interesting or exciting is nearby. Start with these examples:
Have a family member help you by occasionally ringing the doorbell while you work on training to keep your dog focused on listening to your sit and stay commands.
When working around distractions (other dogs, squirrels, blowing leaves…), start far enough away from the distraction so your pup will listen to your commands, then gradually work to decrease the distance while still maintaining control of your dog's attention.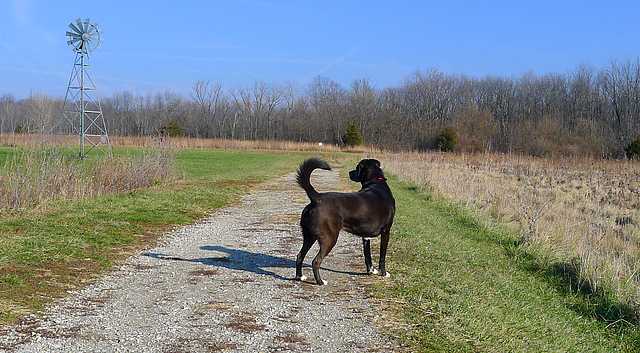 These are just a few examples of how you can train for the three D's but you'll want to customize your training for whatever issues your pup might need to work on. Training for distance, duration and distractions isn't hard, it's just that most of us don't really think about it until we're in one of those situations I mentioned earlier. Here are some helpful tips as you get started on the three D's.
10 Tips for Training the Three D's
1. One D at a Time!
To build your pup's confidence and success, work on the three D's one at a time. If you increase distance, duration and add a distraction all at once, your dog will most likely fail at all three.
2. Reward Your Pup
Always reward your dog and give lots of encouragement and praise as he's learning the three D's.
3. Work Slowly
Learning each of the three D's is a gradual, step-by-step process.
4. Fallback When Necessary
If your dog is struggling with any of the D's, you've probably increased the distance, duration or distraction too much. Go back a level to reinforce the behavior before the next increase.
5. Watch the Number of Distractions
Don't combine too many types of distractions at once. Just like with distance and duration, it should be a gradual process.
6. Leverage the D's
If you're having trouble with one of the three D's, try reducing the other two.
7. Use High-value Rewards
Whether you're using food or your dog's favorite toy as a reward, make sure it's a high-value incentive to encourage your pup and to reinforce the behavior.
8. Don't Skimp on the Number of Rewards
You may need to give more rewards than usual in challenging situations to keep your dog's focus.
9. Attitude is Everything
Stay positive and view difficult situations as an opportunity to train.
10. Keep Practicing
Training is a process. Your dog will get there with your patience, persistence and lots of practice.
It's wonderful if your dog listens to you while at home, but it's even better if you can take him anywhere and know that he'll listen and be well behaved in any environment. If you think your dog has selective hearing, maybe a little work on the three D's is all he needs. Haley's pretty good at distance and duration, but she needs some work with distractions. Yes, it seems there's always something to be worked on when it comes to dog training.
Have you trained your dog for distance, duration and distractions? Share your tips with us!
---
---