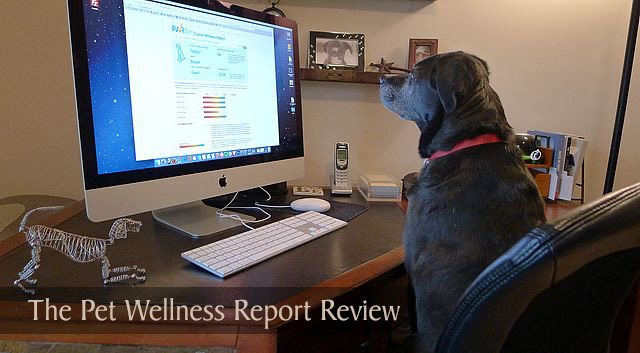 Note: This is NOT a paid or compensated review, but a review of a product that I purchased for my own use. I enjoy sharing information about products you may like or find useful and you'll always receive my honest and unbiased opinion.
Haley had her annual vet exam last week and since she's getting a little older, I decided to try out the Pet Wellness Report (PWR) this year. If you're not familiar with the PWR by Zoetis, it's a two-part health assessment that combines a set of comprehensive lab work results with survey information you provide about lifestyle factors relating to your pet. The combined results give you and your vet more information to create a preventative care plan for keeping your pet healthier along with early detection screening for serious diseases. Early detection means early treatment and a better chance that a disease can be managed or treated successfully. Ok, that was kind of a long explanation, so let me break down the Pet Wellness Report review. Here's how it works.

How the Pet Wellness Report (PWR) Works
During your pet's exam, your vet will collect blood and urine samples for analysis.
When you arrive back home, you'll logon to the Pet Wellness Report website to create your account and answer survey questions about your pet, which takes about 10 minutes.
The PWR matches the lab results with your survey answers to create the health assessment report.
Your vet will analyze the results of the report and contact you if they have any concerns or recommendations.
You'll receive an email from PWR when your report is ready to be viewed on their website. They state that it can take up to five days for the report, but Haley's report was ready the following day.
Print the report for future reference and contact your vet if you have any questions or concerns about the results.
How Much Does it Cost?
My vet charged $133.00 for the Pet Wellness Report. However, since Haley was scheduled for a heartworm test which normally costs about $40.00 but is included in the PWR, I calculated my adjusted cost of the PWR to be around $90.00
Haley's Pet Wellness Report
Note: Each report includes an overall health assessment (along with detailed assessments in the areas of Cancer, Heart, Dental, Nutrition and Safety) and your pet's lab results. Each assessment area is given a rating of Excellent, Good, Fair or Poor. Click the report sections below to view Haley's health data.
My Thoughts on Haley's Report
Having the option to view the lab results online and being able to print the report was convenient and I did learn a few things, like Haley having an increased risk of cancer due to the dark pigmentation on the inside of her mouth. But I was disappointed that some of the survey questions were too general and because they were usually Yes or No type questions, the assessment didn't always result in an accurate picture of her health.
For example, the question "Do you give Haley bones or toys to chew?" is kind of vague considering there are so many types of bones and toys, and she got a Safety rating of Poor with the explanation that bones can splinter or cause obstructions. The question "Do you give Haley daily treats?" doesn't account for the type, size or calorie count of the treats and the question "Do you avoid giving Haley table scraps?" is also vague as to what constitutes "table scraps". Since Haley only eats small, low calorie treats and healthy table scraps (healthy foods that I also eat), she probably should have scored higher in the nutrition section.
I also noticed that certain questions that you would think should result in a rating of Excellent, only resulted in a rating of Good. For example, I answered Yes to the following three questions, but each translated to only a rating of Good.
"When you take Haley away from home, do you put her on a leash?"
"Do you measure Haley's food every day?"
"Do you try to control Haley's exposure to mosquitoes by removing standing water?"
Perhaps the PWR scoring algorithm ranks these questions a little lower to make the overall health assessment more accurate. It's just something that seemed strange to me.
The Wrap Up – Pros and Cons
The Pros:
The Pet Wellness Report is available for both cats and dogs.
Early detection of disease means early treatment and a better chance of successful treatment.
The test results give your vet a more complete picture of your pet's health. During your vet visit, if there's not enough time to cover all of these topics or if you forget to bring up an issue, there's a good chance the PWR will address any problem areas that may need attention.
Owners get customized tips and advice on how to improve their pet's health.
Lab results are easily accessible and printable for your records or in case they're needed later.
Uncovering potential problems or illnesses may save you money in the long run by addressing the issue early.
The Pet Wellness Report is the only AAHA recommended health risk assessment for dogs and cats.
The Cons:
Some survey questions need to be more specific or fine-tuned in order to give better assessment results.
Some pet owners might consider the cost of the report to be a drawback, as it's an extra fee added to your vet bill. For me, I feel the cost was reasonable because it brought me peace of mind knowing that I'm not overlooking a medical issue that might need to be addressed.
I'm glad I decided to try the Pet Wellness Report program and I believe the benefits are well worth the cost of the report. Since our pets often don't show signs of illness until a disease is in an advanced stage, this is a good way of being proactive in our efforts to help them stay healthy. Even though our vet suggested the PWR for Haley because she's getting a little older, dogs and cats of any age can benefit from the program.
Well, that's it for my Pet Wellness Report review. I know these kinds of posts can get a little technical and tedious to read, so thanks for sticking around until the end!
Have you used any health assessment tools or programs for your pets? What did you think?