Last year some of my favorite pet bloggers participated in the Pet Blogger Challenge but unfortunately I learned about the challenge a little too late to jump in and participate. This year, I'm ready for it and I'm actually a few days ahead of schedule.
If you're a new blogger or haven't heard of the challenge before, it's an annual blog hop sponsored by GoPetFriendly.com that takes place each January. Pet bloggers answer ten questions about their blog as a way to share their accomplishments and challenges from the previous year. It's also a fun way to get to know your fellow bloggers a little better and discover some tips to help make your blog more successful.
For my non-blogging readers, thanks for bearing with an article that's more about blogging than dogs and for my blogging buddies, I hope you decide to participate in the blog hop which starts Saturday, January 9th and runs through Monday, January 11th. Just click the image below to learn more or join the hop via the code at the bottom of this post.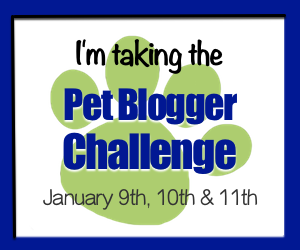 My answers to the 2016 Pet Blogger Challenge!
How long have you been blogging? And, for anyone who is visiting for the first time, please give a quick description of the subject of your blog.
I've been blogging for about a year and a half and my blog covers a range of topics about dogs. You'll find lots of articles about dog behavior and training, tips for keeping your pup healthy and a few reviews of my favorite dog products.
What is the one thing that you accomplished during 2015, either on your blog or because of it, that made you most proud?
I'm most proud of being able to reach more people in 2015. I saw a significant increase in traffic during the past year and a higher level of engagement when visitors came to the blog.
Which of your blog posts was your favorite this year and why?
My favorite post was Why Does My Dog Greet Me With a Toy? – I've discovered that some of my best performing articles have been about quirky dog behavior or things I wonder about but don't necessarily have an answer or explanation for. These types of posts generate a higher level of engagement and it's always interesting to read other people's comments and perspectives.
What is one thing you've done in the past year that has brought more traffic to your blog?
Being more active with social media certainly has helped, especially via Twitter and Instagram but most of my traffic comes from people using search engines to find an answer to a question or problem. Yes, it's all about that darn SEO!
Which of your blog posts got the most traffic this year? Why do you think it was so popular?
By far, my most popular post was How to Stop Your Dog from Getting Into the Trash. It certainly made me feel better about our little trash hound who once again this past year got into the trash when I forgot to remove the can before leaving the house. You can tell she felt bad about her misadventure, but I assured her that it was my fault and judging by all the hits this post generates, she's not alone.

---

What is one blog that you read religiously – other than your own – and what makes you such a devoted reader?
Reading articles by my fellow bloggers has turned out to be one of my favorite parts of blogging, so this question is the hardest one to answer. I've developed some great friendships along the way but what keeps me coming back to a particular blog is if I learn something new, gain a new perspective on a topic or have a laugh or two along with the writer. I wish I could list more blogs here but I'm already over the limit with these three talented ladies.

K9sOverCoffee by Barbara Rivers – A terrific blog loaded with articles and tips for keeping your dog healthy. I love how devoted Barbara is to keeping her pups (Buzz and Missy) fit, healthy and happy. Whether a post is about raw diet feeding, exercise, training or healthy products for your dog, I always learn something new here and that keeps me coming back.

That Mutt by Lindsay Stordahl – That Mutt is one of the first blogs I started following and because Lindsay's been blogging strong since 2007, she's certainly doing something right! As a dog walker and blogger, her no-nonsense, honest approach to topics is refreshing and there's always something new to be learned or an interesting perspective on a topic being shared and discussed in her comment section. Her dog Ace looks and sounds like a male version of Haley, so I can't help but love him!

Puppy Leaks by Jen Gabbard – How could you not fall in love with Jen's dog, Laika? She writes about her experience with Laika, the challenges they've faced and their success through positive reinforcement training. I really appreciate her articles on science and dog behavior and I always learn something new from the posts she highlights in her Weekly Roundup series.

What resources do you rely on to enhance your technical, writing, photography, social media, or other skills that improve your blog?
There are so many resources to name here (books, ebooks, websites, etc.) and of course, where would we be without Google, right? I have to give a global "thank you" to all of the writers out there who create helpful articles that solve our nagging, little blog issues and errors which seem to crop up all year long. We surely appreciate all your help! I don't currently have any plans to monetize my blog, but for anyone wanting to make a living at blogging (or at least pay the blogging bills), there's no better resource than the BlogPaws community for help with marketing and social media.
What is the best piece of advice you can offer other bloggers?
If you're a new blogger just getting started, it's easy to feel overwhelmed because the truth is, there aren't enough hours in the day to do everything we should be doing. Enjoy the small victories and accomplishments at first and celebrate each goal along the way as your traffic grows. Writing from the heart and exploring topics you're passionate about is the best way to find your voice and draw an audience. One last piece of advice, don't forget to give something back to others along the way.
What is your vision for your blog in 2016? Do you have specific goals?
I've got a list of exciting post topics coming up this year and I'm hoping to stay on trend with increasing traffic and engagement on the blog. I'll be attending the Global Pet Expo in Orlando this spring, so look for upcoming posts featuring interesting, new pet products headed our way in 2016.
Is there one blogging challenge you'd like help with, or one aspect of your blog that you'd like input on?
Time management is always a big issue for bloggers. Between all of the different social media platforms and blogs I like to keep up with, I often feel like I'm neglecting someone or something. I'm not a fan of automated tools that do mass sharing of posts because I like to read the articles I share, but any tips for tools or apps that help streamline routine blogging tasks would be helpful.
That's a wrap for my first Pet Blogger Challenge! It's such a wonderful way to learn from each other, celebrate our accomplishments and gain insight into the blogging challenges we face. I look forward to reading all of the posts over the next few days and I want to give a big thank you to GoPetFriendly.com for hosting the event!