Haley and I wish you the Merriest of Christmases and the Happiest of Holidays!
I'm thrilled to announce the winner of Haley's Holiday Gift Giveaway!
The lucky dog belongs to Sharon Blank.
Congratulations Sharon! You'll be receiving an email from me shortly and Haley's gift basket of goodies will soon be making its way to your door.
I wish I could send a basket to everyone that entered but I think this will be an annual holiday tradition here on the blog. So, there's always next year. 🙂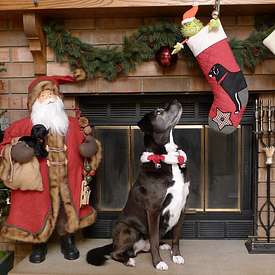 ---
Haley's not sure if the Grinch will steal her stocking or if his heart will grow three sizes larger and she'll get to see what's inside. Either way, she hopes all you pups out there find a special surprise in your stocking this year!
What's in your dog's stocking?
---
---