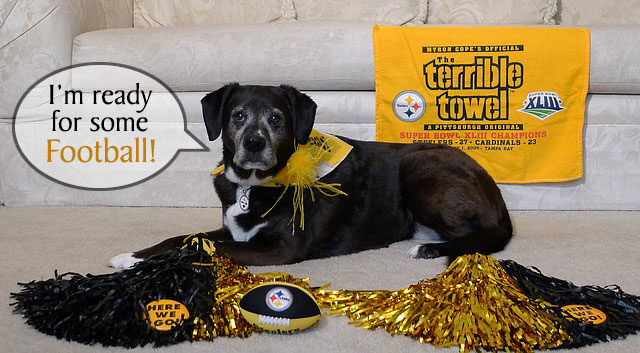 What are you doing Thursday night? Why not join us for the kickoff of the NFL season opener at 8:30 pm EST on NBC. It's the Pittsburgh Steelers versus the New England Patriots and as if you couldn't tell yet, I'm a diehard Pittsburgh Steelers fan along with my entire family. Even though we're living in Ohio now, our roots are in Pittsburgh and as all Stiller fans know, it's in our blood. Our apologies to the Bengals and Browns, it's simply impossible for us to be converted.
Of course, that also means Haley is a Steelers fan. Nobody tackles the Steelers football better than her and nobody rushes to the game day feasting faster than her. She loves our Steeler football parties. She anxiously awaits the ritual of putting on her black and gold bandana then she heads to the front window to wait for the guests to arrive. She's definitely a dog ready for some football!
With four generations of Steeler fans gathering on game day, things can get a little rowdy as you can imagine and when the entire family shows up, it's quite a crowd. For some dogs, football parties can be a bit overwhelming. There's lots of people moving around and talking, multiple TVs blaring the game action, full plates of food carried at nose level, random howls of protests when refs make bad calls and sudden eruptions of cheers and high-fives when those amazing interceptions and touchdowns seem to materialize out of nowhere. That's a lot of noise and excitement for a dog. Our game day festivities last much longer than the game itself because there's lots of catching up to do with family members. It's not unusual for a party to go into overtime, lasting 6-8 hours or longer. By the end of the get-together, Haley's ready for some serious napping. I read somewhere that it's not uncommon for dog bites to occur at the end of a long party. That makes sense because dogs can get overloaded, tired and a bit grumpy just like people. When you take into account that dogs need almost twice as much sleep as we do, they're going to be pretty exhausted towards the end of the party, especially if they're like Haley and hang around the kitchen for pre-game food preparations then spend most of the game socializing with fellow fans.
So, I thought I would offer a few tips for keeping your pup safe and avoiding those yellow penalty flags being thrown against her during your football game party this season.
Game Day Tips for Your Dog
If your dog gets overwhelmed by excessive audibles or celebration, consider keeping her in a quiet room, crate or have a friend watch her for a few hours.
Select safe, razzle-dazzle decorations if your dog likes to chew on things that might be left laying around.
If your dog tends to get overly excited when people come to your house, exercise her 30 minutes or so before your guests are scheduled to arrive. If you're like me and you're rushing around up to the last minute, call upon your special teams unit. Most family members and friends are happy to help out.
If your dog is a jumper like Troy Polamalu, put her on a leash until she calms down so she's not tackling everyone as they come through the door.
Be sure to keep any food that's harmful to dogs away from where they can easily intercept it. Also inform your guests if you prefer they don't complete any passes of snacks to your pup.
Watch the alcoholic beverages to make sure nobody goes out of bounds and offers some to your dog.
If your dog has a habit of raiding the trashcan, keep a close eye on it and any plates of food that might be left laying around, especially those appetizers with toothpicks. Also, be ready to detect any dangerous food that might have been fumbled on the kitchen gridiron.
If you suit up your dog for game day, try to keep it simple and make sure they're comfortable wearing their uniform. Some dogs aren't fans of wearing clothes or accessories and it could add to their party stress.
If your dog is a relentless beggar looking for handoffs, keeping her on a leash will give you more control.
Keep a close eye on your pup if there are young kids running around. A playful dog can accidentally sack a young child and some dogs might snap or bite if a child pulls their ears or accidentally steps on their tail. If you're at all concerned about how your dog interacts with children, it's better to put the dog in a crate or quiet room.
Make sure your dog can breakaway and escape to a safe place if she feels scared, threatened or overwhelmed.
Gain some yardage at halftime by taking your dog outside for a short break or walk. Your pup will surely appreciate a timeout from the commotion and noise.
Sometimes it's hard to tell when a dog is tired or over-stimulated. If your dog doesn't mind being away from you and your guests, give her some time on the bench by putting her in a quiet room to relax.
With a lot of people coming and going, watch for signs that your dog might blitz through an open door. Some guests might not be good blockers and they might not even notice that she broke through the line of scrimmage.
Even hosts need some time to sit down and enjoy the game. I always take time to huddle with Haley on the floor. She gets a short belly rub to keep her relaxed before it's time to get back into the game.
Keep checking in with your dog. Sometimes they get nervous when separated from their family members, especially if they're protective or insecure. This is one time that you don't want your team member going into the red zone.
Almost all of these tips involve playing good defense by keeping a close eye on your dog and being watchful of their body language. It's pretty easy to get distracted when hosting a party, so enlist your family or friends to help out and remember that it's your role to protect your dog and make sure she's comfortable.
It's almost kickoff time! Is your dog ready for some football? I'd love to hear your tips for keeping your dog safe and comfortable during football games or large parties.
---