I'm sure I'm not the only person who's howled at my dog, hoping she would join in and howl along with me, right? Some of you might have dogs that like to howl, like scent hounds or wolf-like dogs such as huskies, but Haley's not one of those dogs. No matter how much I sacrifice my self-respect in attempts to get her to join me, she's not having it. She barks, she whines, she yips, she yawns, but…no howl, no way! [pardon the pun]
Long ago, some cultures thought dogs had psychic abilities and the howl of a dog meant someone was about to die, yikes! The truth is a lot less dramatic, howling is just a form of communication and here are a few different ways canines use howls to relate information to each other.
Why Dogs Howl
Pack Communication
Packs of canines howl to pull members back together or to help lost pack members reunite with the group. This could be why some domesticated dogs howl from separation anxiety when their owners leave the house.
Protecting Territory
Canines may use howls as a warning to others when protecting their territory or to warn pack members of a potential threat. Haley sometimes uses a howl-like bark when strangers approach the house.
Auto-Response
The electronic howl of a siren makes some dogs answer with a howl of their own. It probably sounds so similar to a real howl that a dog's instinct kicks in and they respond.
Bonding
Group howling among dogs (or you and your dog) could be a bonding ritual similar to how people bond by singing together.
Distress
Dogs have been known to howl when they're sick or injured to either cry for help or to express pain.
Alert Signal
Hunting dogs often howl to alert each other or their human hunters when they've located their prey.
Attention
If a bored dog gets attention by howling, they quickly learn to howl anytime they're bored or lonely.
The Haley Howl
I've only heard Haley howl one time and I didn't get to witness it in person. A few years ago we set up a video camera for a short time to observe Haley's behavior when we weren't at home. Towards the end of a Christmas holiday when my son and daughter-in-law were heading back home, they said goodbye to Haley and we all left the house to have lunch together before they left town. Here's what happened after we left the house.
I was shocked when I watched the video! Was that really her, howling? I wish she would have been standing in the camera's view but she was looking out the window and probably hoping to call her pack back home. They say each wolf has a distinctive howl that's like a vocal fingerprint, acoustically calibrated to carry over long distances. Maybe this is Haley's vocal fingerprint which includes blowing out air and yawning. I did mention she wasn't good at howling, right?
If you want to teach your dog to howl, try these ideas!
How to Make Your Dog Howl
Howl or sing in a high-pitched tone at your dog, then praise and reward with treats when they mimic you. After your dog starts to catch on, combine the howling with a command such as "Sing" or "Howl".
Use a harmonica or other musical instrument to experiment with different pitches to try to make your dog howl.
If your dog howls when they hear a siren, start giving them a command or cue when it happens. Give praise or treats to reinforce the behavior.
Play different types of music to see if your dog will respond and howl. For some reason, the theme song to Law and Order works for a lot of dogs.
Download an app with sirens or sounds for getting your dog's attention and experiment with your pup.
Set up a video camera and record your dog when you leave the house to see if they howl.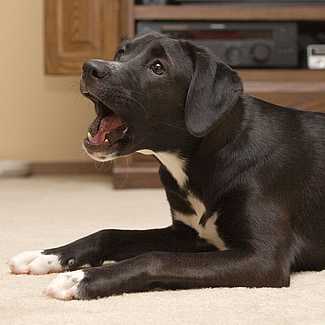 The last idea was the only one that worked for Haley. She tries really hard but either she needs some howling lessons or I could use some of your suggestions. I'd love to hear her howl again, so share your secrets for how you make your dog howl.
---