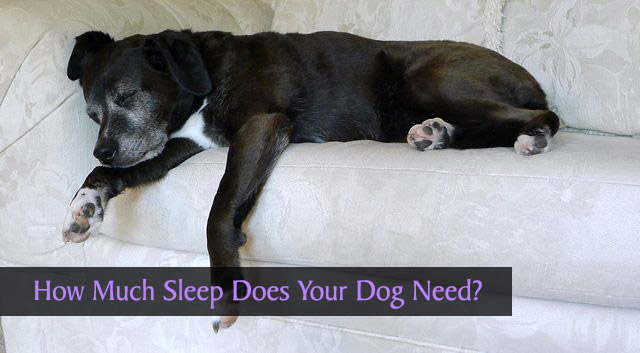 As I'm typing away here, Haley is sound asleep at my feet. She loves my blogging days much more than other days, like house cleaning day. On cleaning days, she follows me from room to room all day long. Maybe she's inspecting my work as I vacuum all her black hair off the white couch or maybe she's worried one of her de-stuffed toys will get caught in the belt of the monstrous, sucking machine. Nah, she follows me around because she's a velcro dog who's willing to forgo sleep in order to stay with me as I go about my dreaded domestic duties. No worries though, she certainly makes up for it by taking a few extra naps on my blogging days.
If it seems like your dog sleeps half the day away, you're probably right. Most adult dogs sleep about 14 hours a day with puppies, senior dogs and giant breeds sleeping around 18-20 hours per day. Even though the amount of sleep varies depending on the breed, size, age and activity level of the dog, they do need a lot more sleep than us humans.
The breakdown of a typical dog's day
Typically, a dog spends 50% of their time sleeping, 30% awake and alert, but resting and 20% being active. That means if your dog sleeps the normal eight hours a night that most people sleep, they'll still spend about six hours napping throughout the daytime hours.
---
Why do dogs need so much sleep?
Have you ever noticed how your dog can be sound asleep but then at a moment's notice, they can be wide awake and ready for action? That's because dogs don't sleep as soundly as humans. They enter REM sleep patterns only 8-12 percent of the time that they sleep compared to our 20-25 percent, so they make up for it by napping more during the day to get the rest they need. Dogs also adjust easily to changes in their sleep patterns which is why you might notice your dog being more tired the day after an active day with few naps.
Should you ever worry that your dog is sleeping too much?
If you notice a change in your dog's normal sleeping habits, it's a good idea to make an appointment with your vet. Some common medical conditions that may cause your dog to sleep more include: poor diet, heart or thyroid issues, diabetes and obesity. Some vets believe depression can affect dogs in a similar manner that depression affects people which could be a possible explanation for a dog that's sleeping more than usual.
Other reasons your dog might be sleeping more than usual.
Bored dogs sleep more than active dogs which is a good reason to make sure your pup gets plenty of exercise and mental stimulation. If your dog's like Haley, a velcro dog that always wants to stick beside you, they can become tired on those crazy, hectic days when you're constantly on the move. Haley will keep up with me all day until we both finally get an opportunity to sit down and relax, but she'll usually nap a little more the following day. If your dog is unusually active or stressed on a particular day, it's not uncommon for them to take some additional downtime to rest and recuperate.
Do dogs ever get grumpy when they're tired?
Even though dogs can adjust their sleeping schedules pretty easily, they can get a little grumpy when they're extremely tired or overstimulated. For example, if you're hosting a day-long party with many guests and a lot of activity, your dog's nerves may be somewhat frazzled by the end of the evening. Even some very sweet and gentle dogs can become stressed and lash out by growling or biting in those situations. Be aware of how much rest versus stimulation your dog gets during long or unusually stressful events and consider giving your dog a break from the action or an opportunity to catch a nap in a crate or quiet room of the house.
As I'm finishing up this post, Haley's still here napping at my feet. Yes, I think she definitely prefers blogging days to cleaning days. Does your dog ever get grumpy? How much sleep does your dog need?