Unfortunately, what I've been worrying about for years has happened. Haley recently ruptured her CCL. If you don't know what the CCL is, it's the cranial cruciate ligament, equivalent to the ACL in our human knees. Her knee problems started about three years ago when she stretched the ligament. Even though it tightened up after a few weeks of limited activity, it's given her trouble on and off since then and arthritis added insult to injury, so to speak.
All of the things I've done to try to protect Haley's knee, like starting her on Adequan injections, were outmatched by a few meandering deer passing through our backyard. She set off to protect her territory on four legs but returned from the chase hobbling on just three. After giving her several days to see if her condition improved, she would only put a little weight on the leg while walking and she would hop along on three legs when she wanted to move faster. I had a bad feeling about her condition and our vet confirmed my suspicion; she had ruptured her CCL and needed surgery. Ugh!
The first part of this video shows how Haley was getting around before her surgery.
Why Are CCL Knee Injuries So Common?
CCL injuries are one of the most common orthopedic injuries in dogs. I've known several family members and friends whose dogs required CCL surgery and one of Haley's littermates has the exact same knee injury.
Some dogs injure the ligament while running when they quickly change directions. The shift in their body direction at high speed puts a great deal of weight and stress on the knee, especially if a dog is overweight or obese. Other dogs may have chronic degenerative ligament disease where the ligaments become weak with age and eventually stretch, tear or rupture.
Dogs at a higher risk of ligament problems are spayed females and larger breed dogs. A few studies have found a link between early spaying and neutering and an increased risk of CCL injuries related to the role that sex hormones play in bone growth and development. Another reason CCL injuries might be so common is the increased number of overweight and obese dogs these days.
Do Ruptured CCLs Always Require Surgery?
I've read a lot of articles about successful, non-surgical treatments for ruptured CCLs but most of those remedies work best for small dogs under 25 pounds with most treatments being coupled with a period of restricted physical activity. Some dog owners have had success with stifle braces or custom-made casts. Even though there's a variety of therapeutic and holistic types of treatment, surgery is often the best option for larger dogs and it was the course of action recommended by Haley's vet.
Types of CCL Surgical Repairs
There are several types of surgical repairs for CCL knee injuries. Some require cutting the bone and using plates to stabilize the joint such as the Tibial Plateau Leveling Osteotomy (TPLO) or Tibial Tuberosity Advancement (TTA). Other surgeries are suture based where a heavy suture or wire is used to stabilize the joint which takes over the function of the ligament until scar tissue can form to help stabilize the knee. For more details on surgery options, check out this article by the
American College of Veterinary Surgeons
. It's good to keep in mind, one of the most important factors affecting the outcome of the surgery is the experience level of the surgeon.
Haley had the extra-capsular suture stabilization type of surgery a little over a week ago. The first 48 hours after surgery were a little rough, especially when it came time for her to do her business outside and none of us got much sleep around here. I saw a big improvement on the third and fourth day after surgery but then she had a side effect to Rimadyl (one of her pain medications) that forced us to discontinue its use, so she's been in a little more pain while finishing out this first week. She's such a trouper and an exceptionally tolerant patient, especially when I have to do her rehab flexion and extension exercises.
Here are some tips I've discovered over the past week while helping Haley recover from her surgery.

10 Tips for Helping Your Dog After CCL Surgery
1. Sleeping Arrangements
Consider sleeping near your dog for the first few nights after surgery. We camped out in the family room with Haley so we could comfort her and help her get up and lie down when needed. We also moved her food and water bowls into the room so she wouldn't have to walk very far. You probably won't get very much sleep those first two nights, so be sure to catch some zzz's whenever your pup is napping peacefully.
2. Addressing the Whining
There will probably be some whining and whimpering during the first 48 hours after surgery. It's usually related to pain, but it can also mean your dog needs to go outside or they're hungry, thirsty or cold. Bringing Haley a bowl of water or a little food or even covering her with a blanket would often stop the whining and she would go back to sleep and rest awhile longer.
3. Baby Gates
A few carefully placed baby gates makes it easy to provide enough confinement without resorting to using a crate. I was really concerned that Haley might try to jump up on our bed at night and reinjure her knee, especially once she starts feeling a little better. I used a couple of baby gates and zip ties to create a makeshift pen that secures her but still allows her to stay close to us at night.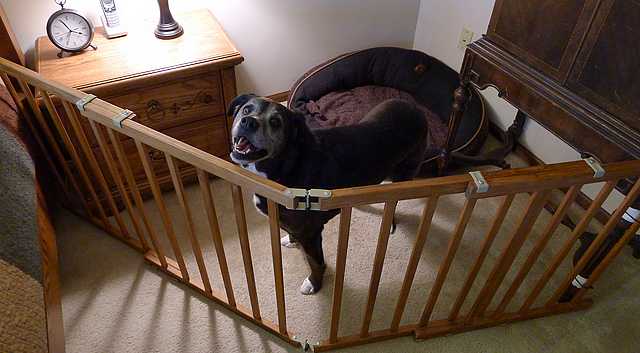 4. Ice Packs
If you don't have a ice pack in your freezer, a bag of frozen peas works perfectly. It forms well around the knee joint and can be reused over and over again.
5. Slings
You may have to carry your dog up steps for a while and if you have a larger dog, a sling makes the job much easier. A sling can also be useful to support your pup when they go to the bathroom during the first few days. A thin towel folded lengthwise and looped under their belly works well or try this clever idea from Jen at
My Brown Newfies
.
6. Make a Schedule
Between giving various pain pills and medications at different intervals and icing and warming the knee joint several times a day, it can be easy to forgot something unless you have a written schedule. Put the schedule on your refrigerator so everyone can help keep an eye on what needs to be done. It's especially important to stay ahead of the pain by remembering to give each dose of pain medication on time.
7. Potty Pads
It's not uncommon for some dogs to have an accident after surgery because it's hard for them to get up and they may be slightly sedated from the pain medicine. Disposable absorbent pads can help protect carpet or your dog's bed and they make clean up quick and easy. Luckily, Haley didn't have this issue but it's always good to be prepared.
8. Slippery Surfaces
Try to keep your dog off slippery floors until they start putting weight on the injured leg. It's pretty easy for them to lose their footing while hobbling around on three legs and it's also harder for them to get up from a resting position if they happen to lie down on a slick floor. We've tried several types of paw traction products recently, from booties and socks to toe grips and paw wax, but none have worked very well for Haley.
9. Watch the Backend
Monitor what's coming out of your dog to make sure they aren't having an issue with their pain medication. Haley had a problem with loose stools but when we started noticing blood in her stool, our vet had to change one of her pain meds and we needed to add a probiotic and a
daily dose of raw pumpkin
to help get her back to normal.
10. The Dreaded Doorbell
I'm so glad my son mentioned this tip because I probably wouldn't have thought about it until it was too late. If your dog tends to spring up and run to the door when the doorbell rings, it's a good idea to disconnect it while they're recovering. Thanks, Cody! It's been a pretty rough week around here, but I know Haley will be on the mend soon and before too long we'll be back out on the trails again. A huge part of ensuring successful CCL surgery is following through with the rehab schedule and making sure your dog doesn't overdo any physical activity once they start feeling better but before they're completely healed. So, that's how we'll be spending the next 11 weeks and I'll try to update the video with her progress as we go along.
I hope the information and tips are helpful if your dog might be facing CCL surgery in the future. If you've already been through this, share your experience and any tips you might have. I'd love to hear them!