We've all heard about the benefits of meditation and how it can have a positive and sometimes profound effect on your physical and emotional health. Lately I've been seeing a lot of articles and books on topics like doga (yoga with dogs), Reiki and yes, even meditating with your dog. Hmm, can you really meditate with your dog?
I learned Transcendental Meditation® (TM) when I was a teenage and although I don't meditate on a regular basis, I do rely on it for those times when I'm super stressed about something and it really helps. But when I first heard about the concept of meditating with your dog, I had to laugh. Me, meditating with Haley? The dog that runs to grab the squeakiest toy anytime I get on the floor and attempt to do stretching exercises? She growls, baits me with her Mt. Drool bottle and occasionally even pokes me in the stomach with it. I guess I'm partially to blame though, I usually take the bait because it's more fun to play than exercise.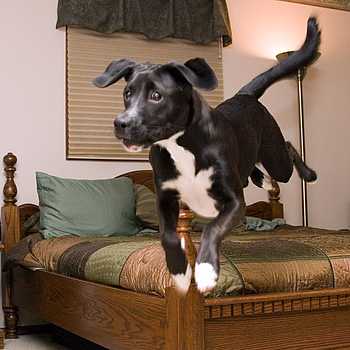 I suppose I could wait until Haley's in a calm mood before trying to meditate with her but I know as soon as I would start to relax, she would probably hear something outside or the UPS man would decide to show up on my doorstep. Have you ever been resting quietly next to your dog when someone rings your doorbell? I don't know about your dog, but Haley suddenly turns into some kind of superhero dog which includes leaping from the bed in a single bound after barking directly in my ear! That's not the most peaceful way of concluding a meditation session and I'm sure something like that would happen or perhaps she would get bored and perform her whining crescendo routine.
Do Dogs Even Know How to Meditate?
Yes, I believe dogs are natural meditators. I think for the most part, they live in the moment and seem to enjoy settling into a quiet state. Haley will often be awake but kind of zoned out while staring into space. It's not so much that she's tired and ready to fall asleep, she's just very relaxed and at peace with her surroundings. This seems to be natural for most dogs and probably why we're so motivated to help anxious or fearful dogs, it's not their natural state, unlike it may be for some humans that have an excitable or nervous natural state.
Is It Possible to Meditate With a Dog?
I think we meditate with our dogs all the time, without realizing it. Meditation is just quieting the mind and attempting to slow or stop distracting thoughts. If I'm having a stressful day and decide to lie down and pet Haley, it instantly helps me relax and after a few minutes I may even start breathing in sync with her.
Another way we meditate with our dogs is by just sitting together in a nice spot and enjoying each other's company and calm energy. It's like being with someone you're very comfortable with, you don't have to speak or interact, you can just quietly "be" together. Do you find it soothing to watch your dog quietly play with a toy or chew on a bone? You might realize that you're not even thinking about your dog or really even "watching" them but your mind is quiet and you have a very peaceful feeling. That's also a form of meditation, similar to watching fish swim in a tank. These are all different types of meditation, but if you want to take things to the next level and try an actual meditation session with your dog, try the steps below!
Enjoy a Meditation Session With Your Dog
Choose a time of day when you have 20-30 minutes of uninterrupted time.
Find a quiet place and get into a comfortable position next to your dog.
Place your hand on your dog where you can feel the rise and fall of their chest when they breathe.
Focus on sharing positive, loving energy through your touch.
Close your eyes and take a few deep breaths.
Focus on slowing your breathing, taking longer and slower breaths as you sit with your dog. You may find that your breathing begins to sync with your dog's breathing but it's fine if it doesn't.
Try to clear your mind of any thoughts but don't get stressed or fight against them. Simply let them come in, then let them go just as easily. This part takes a little practice but it gets easier the more you do it.
Finish the session by gently stroking your dog and offering some kind words.
Good! You're still here and I haven't scared you off yet with all this new-age talk. I have to admit, I don't do this very often, but I have tried it many times and it's very relaxing and Haley seems to enjoy it too. If you're new to meditating, remember that there are no rules, just enjoy being in the moment with your dog without any expectations. If your pup gets up and leaves, they may come back in a few minutes to rejoin you.
To answer the question, "Can you meditate with your dog?" I have to say the answer is both yes and no. I don't think I could meditate with Haley in the traditional sense because she would probably be too distracting, but you can definitely include your pup in special sessions that are beneficial for both of you.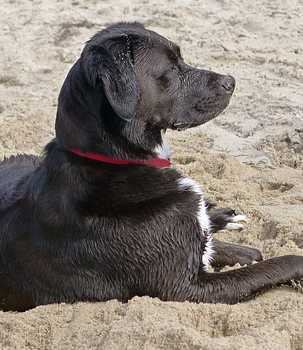 Sharing calm energy with a dog is an excellent way to build trust and create a strong bond, especially with dogs that are fearful or anxious. Some people claim that our dogs are a mirror of ourselves and maybe there's some truth to that. I believe that dogs sense our energy and find it easier to relax when we're relaxed. I also think they prefer to be around people that are calm in nature rather than people that are nervous or overly excited by nature. If you're one of those anxious types that would like to learn to be more relaxed, give meditation a try. If you need more convincing, check out these 76 scientific reasons you should be meditating.
---
Do you meditate with your dog? Maybe you do and don't even realize it.